At this year's Chinaplas, Keba will be presenting basically innovations from its KePlast product series which are well known for optimized control solutions for injection moulding machines. Further more Keba's robot control solution KeMotion IMM Handling will show its strengths in IMM processes.
In fact, following novelties will be exhibited:
KePlast ServiceNet
is a new philosophy of service & support which allows quick worldwide remote control of injection moulding machines. The key benefit is, that this solution offers secure remote access without changes or intervention of a company's IT network.
KePlast i1000 V-IMM
is a cost-optimized control solution especially for vertical IMMs with a customizable control panel.
KePlast EasyNet 2.0
is an enhanced software control centre for monitoring of processes, machine productivity and long-term statistics.
New screen design for the cost-effective KePlast i1000
IMM control solution which now comprises improved usability and a premium European design like advanced KePlast i2000.
KeMotion IMM Handling
allows material handling in IMM processes to be done fast and efficiently and offers fast start-up and easy operation.
KePlast - The optimized control solution for plastics machinery
With KePlast, Keba offers an optimized control platform that has been especially designed for any type of plastic injection moulding machine. It provides basic solutions for standard equipment as well as sophisticated versions for high-end machines.
KePlast systems are characterised by the fact that whatever the machine type or application, an ideal product can be found. Their scalability is not only limited to the control hardware with regard to CPU performance, I/O capacity, modularity and extension possibilities. It also applies to the size of the panel, the numbers of keys and individual features.
The comprehensive nature of KePlast control solutions allows any system to be operated by only a single application. This means that - should system performance demands increase - only the hardware needs to be exchanged; the existing software can remain the same.
One application can be employed for all machines of a particular manufacturer, which greatly reduces customer expenditure. The high costs related to programming can be saved and a faster time-to-market is achieved.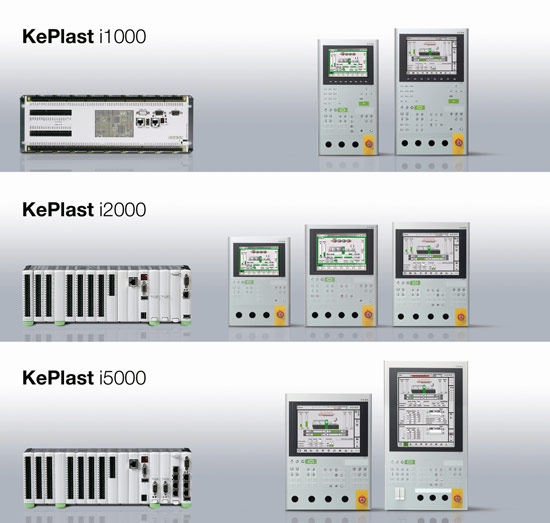 KePlast ServiceNet - The new service & support philosophy for easy and secure remote control of IMMs
ServiceNet from KEBA is a brand new plug&play solution for operating and monitoring injection moulding machines remotely. Worldwide fast access to process data for service & support issues as well as for easy diagnostics are possible the same way as it would be by operating the IMM's screen directly on site.
The clou is that there is no need for modifying or changing anything in the company's IT network, on the firewall or regarding the internet connection. There isn't any security risk – whether for the company's IT network nor for the IMM itself. Communication happens via a fast wireless internet connection using newest market standards. As an additional key feature a smartphone with all its built-in functionalities can be homogenously integrated into the concept.
ServiceNet's combination of secure remote access and direct communication possibilities between the machine's operator and a service technician results in a powerful and easy to use global service & support solution for IMMs.