KePlast i1000 V-IMM - The modern operation and control solution for vertical IMMs
Now KEBA's proven KePlast i1000 control solution for cost-efficient automation of IMMs is available for vertical injection moulding machines, too.
The tailor-made neutrally designed operation panels of KePlast i1000 V-IMM offer full support for vertical machine arrangement and can be customized easily.
European brand quality is provided; all the powerful functions of standard KePlast i1000 like turntable and slide table control as well as a light curtain are available.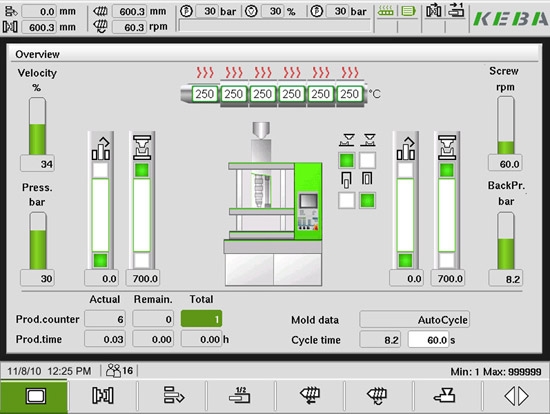 KePlast EasyNet 2.0 - The control center software solution for IMM monitoring
When operating several injection moulding machines at one manufacturing location, concentrating all the production data in one control center will simplify production monitoring. That can be done easily with EasyNet from Keba.
No matter if process monitoring, long-term statistics and monitoring of the machine's productivity is necessary, the most efficient solution always will be EasyNet. The new, updated version 2.0 offers now possibility for user-specific adjustments and customizable features.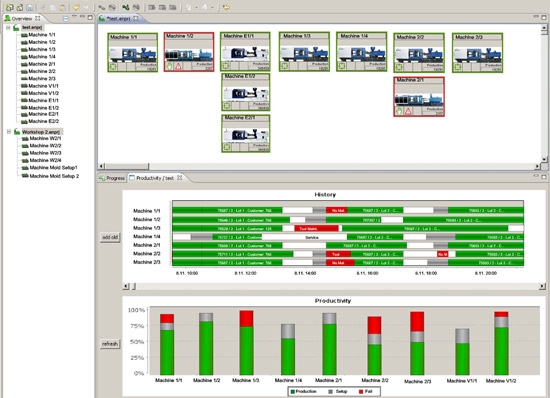 Upgraded GUI for KePlast i1000 - Cost-efficient IMM automation solution now with premium user interface
The recent update of cost-efficient KePlast i1000 solution contains the same European brand quality user interface as advanced KePlast i2000. Key benefits are a straight-forward, user-friendly design with improved menu navigation and premium GUI. Information is displayed clearly arranged and significant. Both, the design of the operation panel itself and the screen design are all of a piece.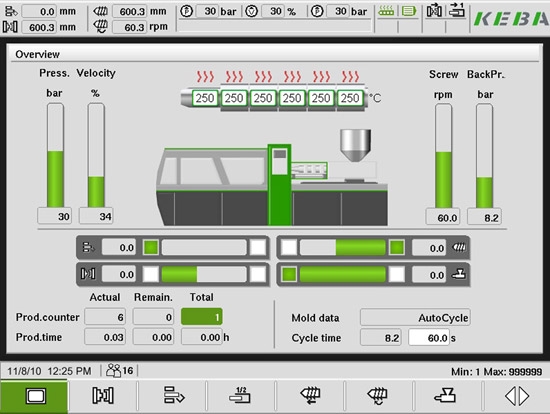 KeMotion IMM Handling - KEBA's robot automation solution focused on IMM handling tasks
Automated material handling in IMM processes becomes more and more important. Keba's reaction on that is the turnkey robot automation solution KeMotion IMM Handling. Fast start-up is offered by easy system integration and an Euromap 67 interface as well as by powerful functionalities like support of all linear robots. Intuitive, graphical programming allows comfortable teach-in of the robot. The high-end robot control guarantees fast take-out times and lowest vibrations of robot-arm and tool.
KeMotion IMM Handling is fully customizable and delivered with lots of predefined unloading programs. It also contains a flexible palletizing solution.
Even more power is offered by highly sophisticated KeMotion IMM Handling+ which supports all kinds of robots as well as additional robot axis. Vision integration for quality checks and a full featured, freely programmable PLC and robot control are implemented, too. Furthermore advanced applications like mounting, finishing, tracking and so on are possible with KeMotion IMM Handling+ package.