Machines are becoming more versatile
The growing diversity of products places growing demands on the equipment for the production and packaging of confectionery. "Because of frequent product changes and shorter selling cycles, machines today have to be much more versatile and amenable to retooling," says Beatrix Fraese of the Food Processing and Packaging Machinery at the German Engineering Federation (VDMA). At interpack from 12 to 18 May 2011, the world's most important trade fair for the packaging sector and related processing industries, rapid and flexible packaging will therefore be a central topic.
At interpack, the German company Gerhard Schubert thus intends to present a packaging line that retools and thus changes over to different products fully automatically. "Whatever the product – chocolate Easter bunnies or yoghurt tubs – changeover takes only four and a half minutes," says company spokeswoman Bärbel Beyhl.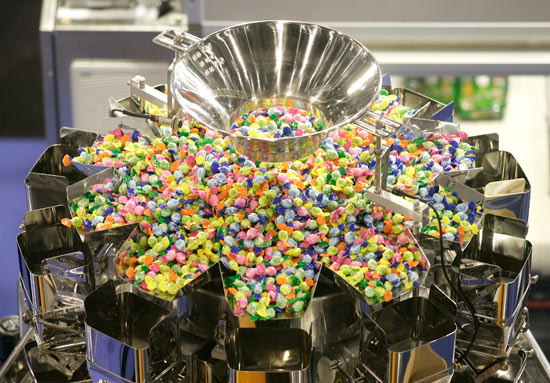 Behind this innovation is a huge step forward in development. "We are approaching the ideal of digital production that, as part of a higher-level system, responds directly and flexibly to changing requirements, operates flawlessly and manufactures even the tiniest lots with high productivity." Sollich, a German specialist in machinery for the production of chocolates and chocolate bars, will be presenting 15 to 20 novelties at interpack, says Sales Manager Andreas Thenhaus. Product suppliers in the industrialised nations are demanding ever smaller lines that operate with greater precision, consume less energy and can be cleaned and retooled faster.
"This is why we're constantly having to upgrade our product range," says Thenhaus.
In the new confectionery markets of Africa and Asia, further challenges await manufacturers. Product suppliers and packaging designers have to take account of different consumption patterns in these regions. While people in the industrialised nations go for glamour & glitz, suppliers in countries like India and Russia have to first build up brands and confidence with clearly communicated messages. "Many countries are only just discovering their sweet tooth," says Heup.
To illustrate the point: in Germany the per capita consumption of chocolate and chocolate goods is, depending on the survey, about ten kilos per year, while the equivalent figure for China is not even one kilo. All the same, experts anticipate a rapid increase in chocolate consumption in countries like China and India. No less important than their presentation is the need to package and seal products securely for these new markets. Difficult climatic conditions hamper the sale of sensitive treats like chocolate. If machine manufacturers want to gain a foothold on the new markets, they also have to perform the seemingly impossible. "Unlike the industrialised nations, it is mainly large machines that are in demand on the new markets for long-term mass production," says Sollich Sales Manager Thenhaus.