Spotlight on the environment
Despite the concentration on design and protection, the industry cannot afford to lose sight of the environment and the cost of production and packaging. Critics complain that special stampings and varnishes and elaborate cardboard packages, designed to give a new dimension to package feel and appearance, are not ecological and push up product costs. The industry is countering with comprehensive sustainability strategies: "For us, the careful use of natural resources like water, the use of environmentally compatible and energy-saving production process and the large-scale avoidance of waste are second nature," says Philippe Oertlé, spokesman of Nestlé, the Swiss food group.
Packaging manufacturers help industry to market their confectionery and bakery products effectively and environmentally compatibly at the same time. Material downsizing is the magic word among manufacturers who are keen to use, best of all, certified packaging materials that are easier to recycle and conserve raw materials by reducing material thicknesses. "Minimising materials input is an important factor for us," stresses Ralf Weidenhammer, head of the German Weidenhammer packaging company.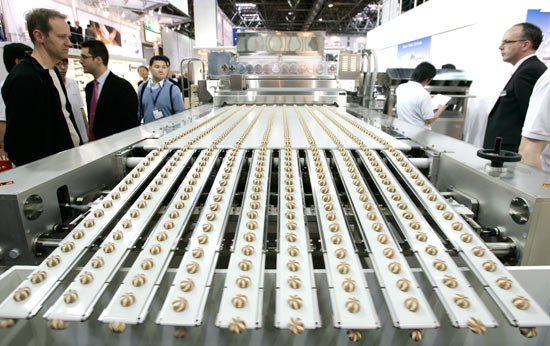 It manufactures, among other things, easy-to-recycle composite cardboard cans for sweets and savoury snacks. Despite their simplicity, Weidenhammer's cardboard cans have helped brands like "Pringles" to achieve huge popularity. Thanks to their striking colours, the cans are a real eye-catcher, keep their contents fresh and open with an entertaining "pop".
Machine manufacturers, for their part, are working on more efficient lines. The Danish company Aasted has developed a tempering machine for chocolate which, it claims, consumes 50 to 80 per cent less energy than its existing widely used systems. To obtain a delicate, smooth consistency, each chocolate melt has to be tempered several times.
With the conventional principle of continuous-flow tempering, the whole mass is uniformly heated until all the crystals melt. Then the mass is cooled and subjected to controlled heating again in order to achieve a certain crystalline structure. On Aasted's new "SupaNova" machine generation, on the other hand, only part of the heated chocolate mass is tempered by means of a bypass system and later mixed with the untreated, remaining portion. This saves heat energy and costs. "The quality of the mass is still exceptional," pledges Aasted Sales Manager Mads Hedstrøm.
The shaping, cutting and packaging of sweets, finally, is the job of packaging machinery manufacturers like the German company Theegarten-Pactec. "We're expected to use less material in our lines and increase output per unit of time – and we're happy to accept this challenge," says spokesman Steffen Hamelmann. The company's innovations show that design and sustainability are not mutually exclusive. At interpack in Düsseldorf from 12 to 18 May, packaging specialists and product manufacturers can gain their own first-hand impressions.