The choice of confectionery and bakery products is huge. The consumer ultimately only buys things that immediately catch his eye and promise pleasures of the palate. This not only elicits maximum design creativity from packaging producers, but also demands in-depth technical expertise in the production process.
At Easter, manufacturers of confectionery and bakery products in many countries shift into top gear. Ubiquitous multi-coloured chocolate eggs, metre upon metre of displays with festively decorated chocolates, and beaming chocolate bunnies can be seen in the discount stores. Elaborately packaged confectionary makes shopping fun and gets consumers in the mood for Easter. This means they often have to pay more for the products, because these decorative packages give sellers extra leeway for pricing.
Scarcely have the Easter bunnies arrived than the consumer watchdogs raise the alarm. Purchasers, they advise, ought to individually and creatively package the confectionery themselves. However, their opinion goes unheeded every time, because in the festive seasons people fall prey to a kind of craving for chocolate(s). They want to give indulge themselves and give others a treat – and the product price is of only secondary importance.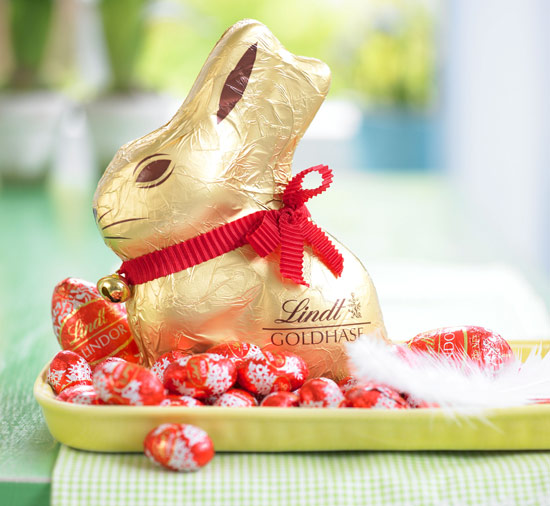 What applies particularly over Easter and Christmas can be observed less obtrusively on any other day of the year. "As fun products, confectionery articles enjoy a special status. Consumers expect them to titillate their taste buds rather than be cheap," says Berlin trend researcher Jürgen Heup. Consumers aren't indiscriminate, however. Quite the reverse, in fact: since the selection is enormous, they can afford to be choosy.
The pinnacle of packaging
Packages for confectionery and bakery products therefore have a difficult task to perform. They not only have to protect the product's delicate contents, but also play the role of the attractive salesman at the point of sale who tempts potential buyers and whets their appetite with a short and sweet message. And the importance of the sweet package as an eye-catcher and communicator is set to grow. "Today's consumers are flexible and enjoy change, and their needs are expanding and increasingly embody such values as freedom from stress, slowing down, health, convenience and sustainability," explains retailing expert Hendrik Schröder of the University of Duisburg-Essen.
Suppliers are therefore less and less able to attract consumers with off-the-peg confectionery. What is demanded is treats that appeal to all the senses. Alternatively, companies create seasonal varieties such as chocolate with light, fruity fillings in summer and containing liqueur in winter. Anyone who wants to go a step further, markets special products for the many different preferences and new trends. However, this is a major challenge, because suppliers still have to keep the brand identifiable despite the diversity – every single product has to be an element in the brand's overall image that fits logically into the overall branding strategy.
German chocolate manufacturer Ritter, for example, has mastered brand presentation to perfection. Its unmistakable hallmark is the practical snap-open pack in which the company packages all its chocolate bars. And there are now innumerable sizes and types, as Ritter has developed square chocolate bars for practically every consumer group: filled chocolate bars and minis for children, recipe-refined classics such as milk chocolate or whole nut for the middle-aged, and sugar-free chocolate for the 50-plus generation.
The LOHAS (lifestyle of health and sustainability) consumer group is targeted by Ritter with fair-trade cocoa and organic chocolate. More recently, Ritter has even established an Internet "blog chocolate" to enable customers to create their own chocolate bar, including the design of the square wrapper. Anyone who wants to survive in the face of such a strong brand has to present his goods to best effect. It is precisely here that the sales package reveals its huge importance because it gives the customer further prompting at the point of sale.