SABIC Innovative Plastics announced that its Lexan Thermoclear polycarbonate (PC) multiwall sheet portfolio has scored another winning goal, adding a major showpiece to its already impressive list of over 50 stadium applications worldwide.
New Ultra-Stiff Lexan Thermoclear sheet, with its ability to withstand high winds and heavy snow loads typical of the region, is being used to construct the 43,000 m2, free-hanging roof of the Śląski Stadium, Chorzów, Poland.
This new 25 mm, three-wall, X-structure material will protect up to 55,200 spectators from the elements while enabling natural light to fill the stadium. Building on three decades of proven performance in stadium roofing with Lexan sheet products, SABIC Innovative Plastics continues to push forward with state-of-the-art materials to help architects and designers improve safety, durability and comfort.
"Sports stadiums are often signature buildings for a city or country, and architects strive to create unique new forms, including huge roofs with dramatic curves and sweeps of glazing," said Lennard Markestein, global marketing director, Specialty Film & Sheet, SABIC Innovative Plastics. "The sheer size of these roofs, their exposure to wind and weather, and the global trend toward increased loading requirements for large structures require specialized, lightweight glazing materials. Our new Ultra-Stiff Lexan Thermoclear sheet can meet the demands of the largest and most challenging designs and the harshest conditions to provide long-term protection and beauty."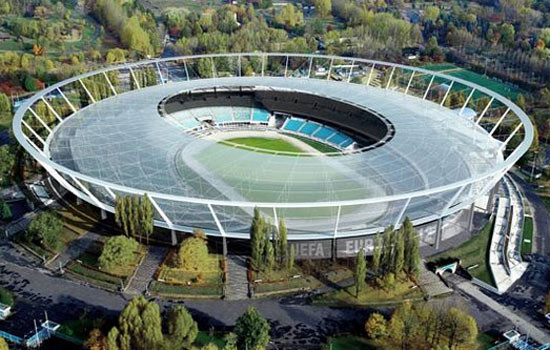 When it is completed at the end of 2010, the oval, free-hanging Śląski Stadium roof will utilize transparent Ultra-Stiff Lexan Thermoclear sheet panels, each 1,500 mm in width. In spite of its extremely large size, the roof is lightweight, providing greater design freedom (i.e., cold forming into many different shapes and configurations) and simplifying installation vs. glass. The installation of the roof is being done by Thermoserr Poland. "This new Lexan sheet far exceeded my expectations," said Aldo Zamuner, general manager, Thermoserr Poland. "It is easy to handle and install, and creates a beautiful effect. The SABIC Innovative Plastics team provided excellent hands-on technical support, expertise and assistance, and met our deadlines with ease. In my opinion, Lexan Thermoclear Ultra Stiff sheet is unmatched in the industry."
Lexan Ultra-Stiff Thermoclear sheet offers exceptional performance with capability to withstand wind and snow loading pressures of up to 2200 N/m2, equivalent to wind speeds up to 200 km/h.
This new sheet product delivers up to 250 times the impact resistance of glass to reduce the risk of breakage from wind, hail, and other extreme weather, as well as vandalism. The multiwall configuration of the product provides excellent thermal insulation. These critical properties ensure spectators are sheltered from the weather, while teams on the field experience less wind resistance that could interfere with play.
The SABIC Innovative Plastics material provides flame retardance that complies with the European fire standard EN 13501-1 for safety. It features an ultraviolet (UV)-resistant coating on both sides to protect spectators from solar radiation and also to prevent yellowing of the polycarbonate. Ultra-Stiff Lexan Thermoclear sheet can be custom-tinted to meet customer specifications. This material carries a 20-year limited written warranty against discoloration, loss of light transmission and loss of impact strength due to weathering.
Sląski Stadium will not be a venue of UEFA Euro 2012 in Poland and Ukraine.