Hydraulic precision for sophisticated LSR
Burr-free, zero-waste, rework-free, and fully automated – these are the key elements in the economic manufacturing of high-tech products from liquid silicone. At the Interplas, ENGEL will demonstrate how this can be put into practice with the production of venting valves for beverage bottles on a hydraulic ENGEL victory 860/160 injection moulding machine. This application optimally utilises the efficiency potential of the tie-bar-less machine. For example, the patented Force-Divider allows the moving mould mounting platen to follow the mould precisely while clamping force is building up, and ensures that the clamping force is evenly distributed across the platen face. This allows both the outer and inner cavities to be kept closed with exactly the same force, ensuring consistent compression of the mould and a consistently high product quality. iQ weight control provides a further contribution to high process consistency and reproducibility. Initially, the software was only available for injection moulding machines with electrical injection units; ENGEL has expanded the area of application with a version for hydraulic machines.
ENGEL is presenting the processing of LSR together with its partner Elmet Elastomere Produktions- und Dienstleistungs GmbH (Oftering, Austria). In this application, Elmet is providing a model TOP 5000 P LSR dosage system, a 16-cavity mould with a cold runner and a demoulding unit. Parts are handled by a viper 40 robot from ENGEL's linear robot programme. The conveyor belt is integrated into the safety gate of the injection moulding machine, keeping the entire system compact.
One-shot process reduces costs per unit
The healthcare application presented at Interplas also impresses with an extremely high degree of integration. Interdental brushes of the type "scrub!" will be produced on a clean-room version of the all-electric ENGEL e-motion 170/110 T injection moulding machine. Together with the grip surface and core, up to 500 bristles can be formed in a single-component injection mould. Extremely delicate in the bristle area, the high-performance precision 8-cavity mould comes from Hack Formenbau (Kirchheim unter Teck, Germany), with Hekuma from Eching, Germany, providing the automation. A highly integrated, automated production cell, built in the modularised HEKUflex design, will be presented by Hekuma. Immediately after injection moulding, the parts will be inspected by camera and the usable parts will be automatically packed in retail bags, 16 parts to each. A bag leaves the production cell every four seconds.
The high degree of process integration and the single-component design of the interdental brush, developed by pheneo in Bremen, Germany, significantly increases production efficiency in comparison to the products and processes established on the market. Interdental brushes are generally made up of three components, which are usually produced in separate processes: The grip surface, a wire-mesh, and the filaments. However, the technology of the system partners ENGEL, Hack and Hekuma has made single-component injection moulding production possible.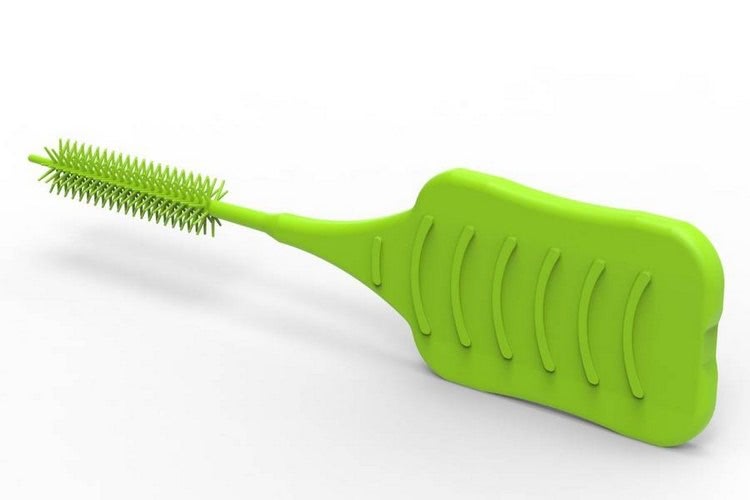 At its exhibition booth, ENGEL will produce single-component interdental brushes on an highly integrated and automated production cell