Lighter than an extruded HDPE bottle for the same level of functionality, the SafeSense HDPE bottle made by ISBM also offers equivalent capping quality to PET, without a sealing lid. This is a real alternative for the fresh milk market.
Keeping the same material and the same recycling circuits, while changing only the bottle manufacturing technology: these are the opportunities offered by the conversion to ISBM-type (injectionstretching-blow molding) HDPE (high-density polyethylene) for dairy producers who already use EBM-type (extrusion-blow molding) HDPE to package their products. This leads to economic and environmental benefits as well as new industrial opportunities in terms of output rates and complete line bottling solutions, such as the Combi.
Producing an HDPE bottle with ISBM technology enables much better thickness control than with EBM. The use of a preform instead of a parison also helps keep bottle weight constant. Thanks to precise control of the heat conditioning of the preform, thickness distribution on the bottle is both more repetitive and more precise.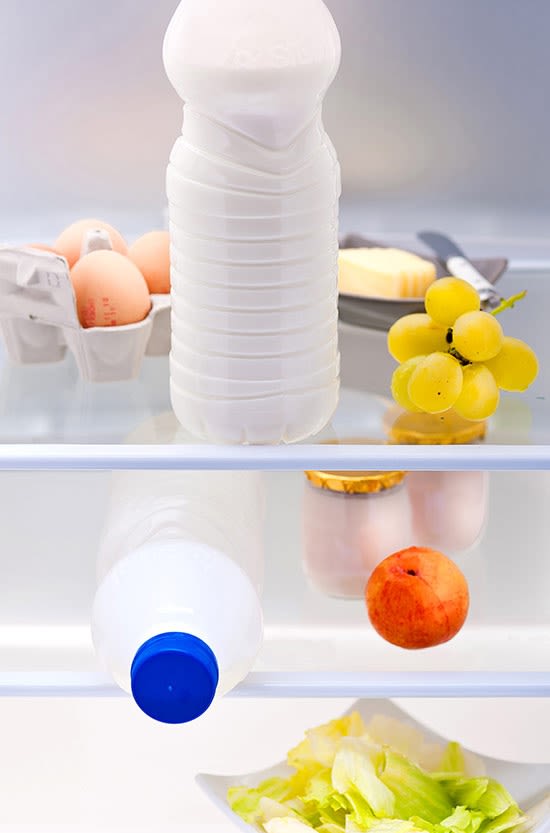 This leads to a 20% lighter bottle on average than with EBM-type HDPE, while retaining the same mechanical characteristics. For example, the average weight of a 1-liter EBM-type HDPE bottle is about 28 to 35 g, whereas the same HDPE bottle made by ISBM weighs only 22 to 28 g. The SafeSense™ bottle is produced from HDPE material available on the market at a weight of 22 g, using an optimized preform designed by Sidel, whose Design department has special skills in this area. This represents a sizeable economic and environmental benefit, when one considers that the weight of the primary packaging is the decisive factor not only for bottle cost, but also for environmental footprint.
SafeSense, the first ISBM-type HDPE bottle without an aluminum sealing lid, also ensures complete air-tightness of the bottle, even when it is laid on its side in a refrigerator. Its extremely resistant, injected neck ensures zero risk of deformation and complete compatibility with the cap. This means flawless screwing quality and the elimination of the aluminum foil. The product's sensory quality is unchanged with respect to an HDPE bottle produced by EMB. Finally, with its HDPE-injected cap, SafeSense offers a single-material package, which is a significant edge as for recycling.
Switching to ISBM-type HDPE makes it possible to envisage a multitude of industrial systems. Working with a preform makes it possible to separate plastics transformation from bottle manufacture and conditioning. It also offers the advantage of a higher instantaneous mold output rate with ISBM: 2,000 bottles per mold per hour, compared with an EBM output rate between 800 and 1,000 bph/m. It is therefore possible to reduce the number of machines and consequently the number of operators. It also means reducing the bottle accumulation needs that are necessary with EBM, thus offering greater production flexibility.
Other advantages: higher production yields and lower waste rates than with EBM lines. The use of ISBM production also eliminates the issue of falling debris (base and neck), which is typical of EBM technology. In addition, switching to ISBM for HDPE also means benefiting from all the latest innovations for Sidel blow molders: optimized format changeover solutions, such as Bottle Switch, and high speeds. The definition of the injected neck makes positive transfer by the bottle neck possible: it also means that integrated blow molding-filling-capping technologies, such as the Combi, can be used, as well as the benefits of the Predis dry decontamination solution for preforms.
Producing an HDPE bottle using ISBM ensures better molding than with extrusion, thanks to the blowing pressure, which precisely spreads the material over the mold walls (better definition of engraved elements, complex shapes, etc.). Finally, ISBM technology also adds brightness to the material, due to heating of the preform and bidirectional stretching.