Here at the Aircraft Interiors Expo, in Hall B, Booth 7A48, SABIC Innovative Plastics today announced five new high-performance thermoplastic materials specifically designed for aircraft interiors, and is showcasing its robust industry-leading portfolio of advanced resin and sheet technologies. These new high-end products are helping global aircraft OEMs reduce weight by up to 50 percent to conserve fuel and lower emissions; meet tough flame-smoke-toxicity (FST) regulations; reduce overall system costs; and enhance the aesthetics, safety and comfort of the cabin environment. A strong and long-term commitment to the aircraft interior sector, together with some of the most advanced and timely materials solutions, enables SABIC Innovative Plastics to meet customer needs in a challenging and dynamic business environment.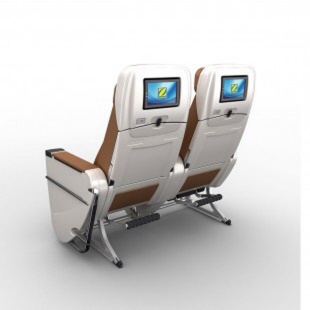 SABIC Innovative Plastics' high-performance materials for aircraft interior applications are a leading choice of global industry OEMs for the extreme toughness, excellent aesthetics and optimal light weight these materials deliver. According to Enviro.aero, an organization established by the Air Transport Action Group (ATAG), being able to operate efficiently is critical to the future of the aviation industry, not just for environmental reasons but financial ones as well. With fuel prices representing the largest operational cost, airlines have a strong incentive to accelerate technological progress and actively explore solutions to further reduce weight. In the process fuel usage is reduced, further cutting CO2 emission1.
"Regulators and the flying public are escalating their demands on the airlines, with the most recent being the pending legislation on Seat Heat Release Special Conditions for aircraft economy seating," said Lennard Markestein, global product marketing manager, SABIC Innovative Plastics. "We've significantly expanded our portfolio with new specialty materials to help our OEM customers meet these requirements and design and manufacture attractive, safe, compliant and sustainable aircraft interiors – while being mindful of the bottom line and focusing on our customers' ongoing success."
Enhancing Environmental Responsibility and Safety
On average, an aircraft will burn about 0.03kg (.06lbs) of fuel for each kilogram (2.2lbs) carried on board per hour and given that the total commercial fleet flies about 57 million hours per year, cutting one kilogram (2.2lbs) per flight can save roughly 1,700 tons of fuel and 5,400 tons of CO2 per year1. SABIC Innovative Plastics' new high performance technologies for the aircraft sector can deliver important benefits when they are implemented widely throughout the airlines.
For example, by using Lexan* F6000 sheet to replace traditional polyvinyl chloride/acrylic products on seating frames, an airline could reduce weight by approximately 23 percent, which is 80kg (176 lbs) based on a plane with 190 seats. In addition, Lexan F6000 sheet provides excellent FST performance complying with FAA25 and ABD-0031 regulations.
Not only do SABIC Innovative Plastics' new materials contribute to significant weight and emissions reductions, the company's new non-halogenated flame retardant materials support compliance with global environmental requirements, such as OSU, DIN/VDE, FAR, FAA, ABD and FST.
• New Lexan XHR (extremely low heat release) 6000 sheet: Lexan XHR sheet provides superior weight-out of up to 11 percent vs. traditional polyvinyl chloride/acrylic products, providing better weight-out for fuel economy while meeting current and future OSU requirements for aircraft seating, cockpit linings, window surrounds, door shrouds, and other interior components. SICMA Aero Seat, a business unit of ZODIAC AEROSPACE, selected Lexan XHR sheet for their new business class aircraft seating due to the material's FST and OSU65/65 heat release compliance, excellent processing and beautiful color.
• New carbon-filled Ultem* resins: SABIC Innovative Plastics is introducing 40 percent carbon-filled Ultem resin technologies featuring exceptional stiffness and double the flow, enabling improved processing and productivity of thin-wall molded parts to replace airline grade die-cast aluminum in structural components for up to 50 percent weight savings and up to a 40 percent increase in strength. Potential applications include structural supports, arm rests, foot rests, galley applications such as coffee maker chassis, and tray table arms. At the show, the company is showcasing tray table arms under development with Vaupell.
• New transparent Lexan F2000A sheet: This new sheet product offers excellent FST performance and impact strength, and complies with FAR 25.853 & ABD 0031 requirements at 2mm and 3mm. It's a candidate for windows, light diffusers and signs where clarity is requested. Lexan F2000A sheet provides environmentally responsible flame retardance according to DIN/VDE 0472 part 815. Additionally, the next generation of the popular Lexan F6000 sheet product will be launched later this year, and will deliver superior melt strength and surface quality during the thermoforming process and will provide environmentally responsible flame retardance according to DIN/VDE 0472 part 815.
Creating Beautiful and Durable Interiors
SABIC Innovative Plastics' materials can make a significant and positive contribution to the flying experience. Both airline passengers and crew can benefit from cabin interiors that offer outstanding aesthetics, including custom colors that are matched at SABIC Innovative Plastics' ColorXpress facilities. Molded-in color avoids painting and its associated costs and volatile organic compound (VOC) emissions. SABIC Innovative Plastics' materials also offer easy cleanability to reduce maintenance costs and can prolong the service life of airline parts, even under demanding conditions.
• New transparent Lexan FST copolymer resin: Now available in a clear formulation, this resin offers improved aesthetic flexibility. For example, it can be combined with Lexan XHR sheet to match colors for components such as personal service unit, window reveals, and thresh hold trims, thus eliminating the costs and environmental exposures of secondary painting. It can also be hard coated to enable full compliance for interior applications. Lexan FST resin meets current and anticipated OSU requirements.
• New Ultem 9090 resin: Next-generation, low-heat-release Ultem resin offers a combination of improved ductility, chemical resistance and UV stability, allowing it to withstand typical cleaning cycles over 25 years with minimal performance degradation. Ultem resin can be custom colored for the added benefit of paint elimination and fulfills FST and OSU heat release requirements.
Ultem 9085 Resin Now used for Cost-effective Additive Manufacturing
To streamline the development of new applications using their materials, SABIC Innovative Plastics is working with Materialise, a Belgian additive manufacturing company. Materialise has added new low-heat-release Ultem 9085 resins to its portfolio, providing the opportunity to have parts in a highly functional, lightweight and flame retardant thermoplastic, with a strength-to-weight ratio that sets it apart from any other thermoplastic available on additive manufacturing machines. Materialise uses fused deposition modeling, a layer-based extrusion process, to construct 3D objects from CAD data using Ultem 9085 resin. This technology is enabling rapid, cost-effective production runs, ideal in situations where part quantities are too small to justify investing in a conventional production mold and is suited to aircraft interiors. These Ultem resins are also on display at the SABIC Innovative Plastics booth.