The Technology Days have been successfully completed at Arburg, marking a good start for the current financial year 2011.
The Arburg Technology Days are an international industry event for the plastics sector. The reason for this is the extensive offering that Arburg presents to its visitors each year: The mix of world premieres, detailed product presentations, carefully-selected specialist presentations and the opportunity for in-depth background discussions with the company's injection moulding experts is simply spot on.
This year, in which Arburg celebrates its anniversary "50 years of Allrounder" trade visitors could once again found out all about the latest developments in injection moulding technology based on more than 40 exhibits and a wide range of applications.
The injection moulding sector is booming again, as the Technology Days 2011 clearly confirmed: Record numbers of visitors, an excellent atmosphere and numerous intensive and project-related technical discussions. More than 5,200 trade visitors from 54 countries came to the Arburg headquarters in Lossburg between 23 and 26 March 2011 in order to take a close look at the machine manufacturer's current range of products and services. Some 40 percent of visitors came from outside Germany. The largest groups counted 160 participants and came from France, Switzerland and the US respectively.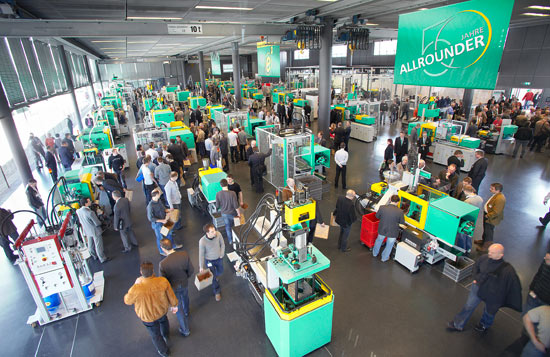 Michael Hehl, Managing Partner and Spokesperson for the Arburg Management Team, is highly satisfied with the event: "No other event world-wide combines detailed insights into the current Arburg technology so well with the opportunity to engage in exhaustive technical discussions with our specialists. Moreover, the unique atmosphere at the Customer Center and throughout the company never fails to impress our visitors."
A permanent fixture at the Technology Days is the presentation of product and application innovations: This year, the new electric Allrounder Edrive (E) machine series, which enables high-end entry into the world of Arburg electric machines, celebrated its global premiere. In terms of performance characteristics, the Allrounder Edrive machines represent an alternative to basic hydraulic machines. With their sophisticated equipment, they cover a broad range of applications, particularly with regard to the technical injection moulding segment. All four sizes of the Edrive machine series were presented, covering a clamping force range from 600 to 2,000 kN.
In 2011, Arburg is celebrating its anniversary "50 Years of Allrounder". The advantages that the Allrounder philosophy brings customers today were clearly demonstrated at the Technology Days. More than 40 hydraulic, hybrid and electric machines as well as a comprehensive range of applications provided impressive evidence that the modular Allrounder range always provides optimal customer-specific solutions.
The applications presented included the production of packaging and medical technology products, clean-room technology, multi-component injection moulding, micro-injection moulding, the production of technical parts and the processing of different materials, from liquid silicone (LSR) and thermosets through to metal and ceramic powders.