For example, disposable LSR hoses for the medical technology sector were produced on an electric Allrounder 470 A, which was docked to a clean room. Both the machine and the dosage system are servo-electrically driven and meet the highest standards in terms of precision and cleanliness.
A large part of the product presentation was dedicated to automated injection moulding systems with customised removal and post-processing concepts. Production cells with Multilift robotic systems or six-axis robotic systems showed the efficiency with which even complex high-end parts can be manufactured. One highlight in this field was the co-operation project with Sonderhoff: a production cell built around an Allrounder 570 S, featuring a six-axis robotic system and downstream application of a foamed PUR seal.
Complete moulding part handling was performed by the robotic system, which allows complex contours to be followed and is also extremely simple to program thanks to implementation of the Selogica user interface. Initially, an automotive part with a groove was produced. Following injection moulding, each part was then in turn positioned beneath the mixing head with nozzle, the seal contour was followed and the finished part set down onto a conveyor belt.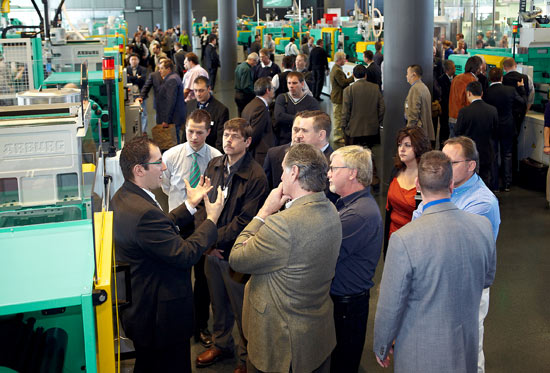 A mobile six-axis robotic system was presented as a highly flexible solution. This was mounted onto a transfer platen together with guarding and a conveyer belt, making it suitable for use on a variety of machines.
In contrast to the diverse automation solutions, a manual workstation suitable for cost-effective production of small batch volumes was jointly presented with Küfner. A fuel tank strainer was produced from two filter shell halves encapsulated with POM, whereby both the encapsulation and joining processes were performed in three cavities within the mould. All the downstream manual finishing operations take place within the overall cycle time, so that no time delays occur.
The Service and Product Training departments also presented themselves to customers and prospects in a dedicated area, where they demonstrated that their offerings extend far beyond the machines themselves.
The exhibition of products and services was ideally complemented by the extremely well-attended specialist presentations with a total number of around 2,200 visitors. The presentations were held continuously throughout the duration of the event, both in German and English. In addition to the historical retrospective of "50 years of Allrounder", topics included new features of the Selogica machine control system, intelligent energy management, efficient UV painting of moulded parts, innovative developments in the field of cube moulds, as well as the premiere of the new Allrounder E (Edrive) machine series.
In 2011, the tours of the premises again proved enormously popular. The foreign delegations, who visited the Technology Days in the company of the Arburg subsidiaries and trading partners, were offered guided tours in their own national language. In addition, around 2,000 visitors took part in the approximately 250 German language tours.