The international plastics world met for the Arburg Technology Days in Lossburg from 14 - 17 March 2012.
For four days, 5,200 visitors from 49 countries were offered a top-class exhibition: with product innovations, more than 40 exhibits, innovative applications and specialist presentations. A major focus was placed on the topic of production efficiency, which Arburg covered comprehensively and holistically.
2012 once again demonstrated that the Arburg Technology Days are an extremely well established industry event for the international plastics scene. "The fantastic response from the industry experts from around the world and the great interest in our extensive product range, as well as the focus on production efficiency, demonstrate that the Technology Days once again proved a real hit," said a delighted Michael Hehl, Managing Partner and spokesperson for the Arburg Management Team.
Some 43 percent of visitors came from outside Germany and all continents were represented. The largest group counted 200 visitors and came from Switzerland. Around 160 visitors travelled to the Technology Days from France, Poland and the Czech Republic respectively. The largest group from overseas came from the USA, with around 140 visitors.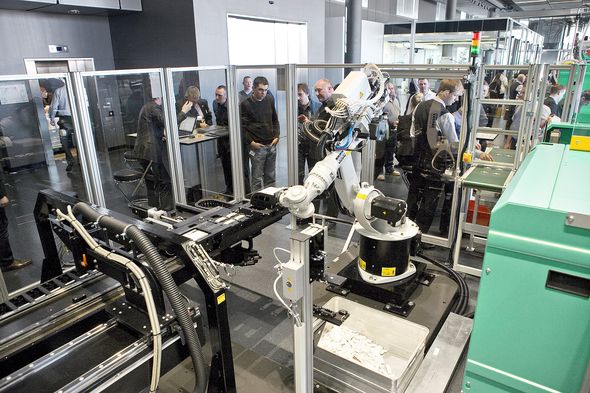 "In a pioneering move, we placed the overarching topic of production efficiency at the centre of all our activities in 2012," explained Michael Hehl regarding Arburg's approach. "Efficient production means achieving optimum quality at minimum unit costs. Important influencing factors for cost-effective moulded part production include cycle time, energy requirements and the organisation of the entire production activities. Here, it's important that we don't just focus on production efficiency in the machine sector, but take the entire value-added chain into account," he added.
Consequently, a special exhibition area was dedicated to production efficiency in order to present all the significant aspects based on practical examples, jointly with the relevant partners: from product design, as well as mould, machine and peripheral technology, including configuration, through to process integration, process control and production planning.
To complement the exhibits, five specialist presentations by internal and external speakers provided a comprehensive overview and detailed information on production efficiency. Some 2,700 participants visited the German and English presentations and their unanimously favourable feedback confirmed that the interest of the Technology Day visitors was met to a tee. With around 820 participants, the presentations on efficient moulded part production and on mould technology enjoyed the best attendance.
Like every year, Arburg again took the Technology Days as an opportunity to present product innovations to the international trade public in 2012. These innovations contribute to further improving the cost-efficiency of moulded part production.
One feature was the productivity package for the globally well-established hydraulic Allrounder Golden Edition machine series. This includes the Arburg energy-saving system (AES) with variable speed pump drive and a water-cooled drive motor.