Millad NX8500E is the most recent addition to Milliken's line-up. It was developed on the basis of Millad NX8000 particularly for extrusion-blow moulding. No other additive puts clarity and gloss levels on a par with other "glass clear" polymers. Random copolymer PP resins can be "tuned" with Millad NX8500E to produce a wide spectrum of solutions. These range from "Ultimate Clarity" – this provides a step change in clarity and gloss (on both surfaces of the container) to levels comparable with PET and PETG, as well as glass itself – up to "Enhanced Quality." In the latter case, additive levels are similar to those of traditional additives, but Millad NX8500E gives significant improvements in surface and internal haze, combined with a wider processing window and improved productivity.
Thick-walled cosmetic jars injection-blow moulded in PP grades containing Millad NX8000 provide a highly cost effective alternative to PET. Clarity is very similar, even at high wall thicknesses, and the jars weigh less because of PP's lower density, adding to the sustainability of the process.
Hyperform HPN-20E also offers important advantages for blow moulders processing HDPE. It provides better neck dimensional stability and minimizes ovality, it improves barrier by changing the polymer's crystal orientation, thus making possible downgauging in personal care, nutraceuticals, HIC and fuel applications, and it enables reductions in cycle times of 10 percent and more.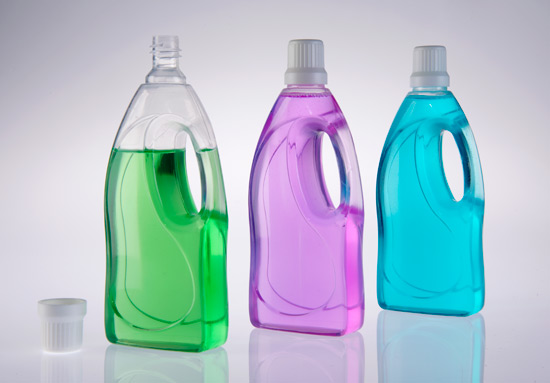 Producers of such clear deep-drawn products as single-use drinking cups in bars and fast-food restaurants can benefit from the use of polypropylene containing Hyperform HPN-600ei, in place of styrenic materials and PET. Hyperform HPN-600ei produces cups with high levels of clarity and it also removes the yellowish tint typical of some PP grades, providing a "fresher" look. Hyperform HPN-600ei is also favoured when warpage is an issue because it causes isotropic shrinkage.
Hyperform HPN-600ei increases the achievable output rates on thermoforming equipment to levels normally only achievable with other plastics. The PP parts can be made with the same wall thickness as other materials. Because PP is less dense, processors use less material, gaining further cost savings.
With polypropylene gaining in popularity for blown film, Milliken's Hyperform HPN-20E scores over other additives with its ability to improve transparency coupled with its conformity to U.S. FDA (Food and Drug Administration) regulations governing in retort applications. It also allows film lines to run faster, because it increases the crystallisation temperature of the polypropylene, so the film freezes more quickly.
Milliken will also demonstrate a pioneering advance for polyethylene film. Hyperform HPN-20E is an extremely efficient nucleation agent for linear low and high density PE. It has a major impact on barrier properties in HDPE film, and clarity improvements in C4 gas phase LLDPE.
Hyperform HPN-20E increases crystallization temperature significantly and has a major influence on crystal orientation. As a result, the barrier to oxygen and moisture vapor is increased by as much as 20 to 50% depending on the PE resin technology.
"Delivering sustainability benefits that are so important to the success of our customers is a key feature in Milliken's approach to additive innovation for our customers," says Sami T. K. Palanisami, Milliken's , Market Manager Plastic Additives for the EMEA regions. Both Millad and Hyperform go a long way towards solving processing and performance challenges while creating knock-on cost reductions in areas such as energy use, handling, storage and material use that add to their all-round value. We are looking forward to demonstrating their benefits to Interpack visitors."