In addition, the organizer has newly established the "Bioplastics and Degradable Plastics Zone", aiming to create an efficient and convenient platform for buyers who are looking for green manufacturing solutions. Exhibitors of this zone now include NatureWorks LLC, Kingfa, Biograde, Shenzhen Ecomann, Hangzhou Xinfu, etc.
Among the exhibits of chemicals and raw materials and over 1,900 sets of advanced machine and equipment, many of them are green exhibits.
For example, the hybrid Allrounder 720 H from Arburg can reach the energy-saving potential to 40%; Milacron's Elektron All-Electric Injection Molding Machine provides an ideal solution for the production of high-end products of the medical and food industry; NatureWorks uses sugars taken from plants to transform into a bioplastics – Ingeo which significantly reduces CO2 emissions; D-M-E's Eco-Smart Hot Runner Systems which is specifically designed to maximize the success of processing polymers including PLA, it greatly enhances the processing of "green" polymer.
Chinaplas 2011 has been increasing its scale in the coming 25th edition. The total exhibition area will further expand to over 180,000sqm. Tracing back to the 1st edition in 1983, the area was only some thousands square meters.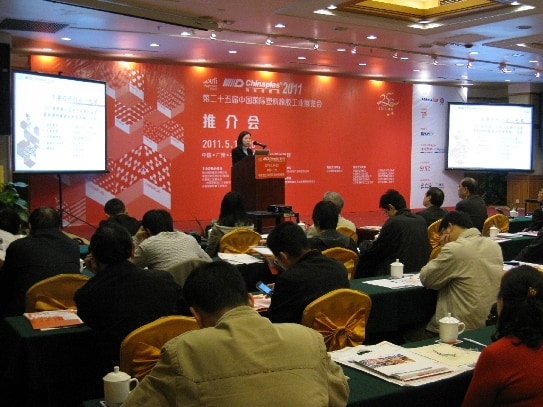 Later in 2007, the exhibition area achieved the first-time breakthrough of 100,000sqm. The major reason causing the double increment in the scale is the synergy effect generated by the rapid development of the plastics and rubber industries, plus its application industries, such as automotive, packaging, electronics and electrical appliances, building and construction, as well as the implementation of China's new policies.
Some prestigious corporations who have exhibited for years also expressed their feelings toward Chinaplas. Mr. Hermann Althoff, Group Vice President, Engineering Plastics Asia Pacific, BASF expressed that in Chinaplas, they could contact many existing clients and potential clients and the show also helped them promote their new products and solutions quickly. Mr. Gero Willmeroth, Sales and Service President, Engel Machinery (Shanghai) Co. Ltd. indicated that influence of Chinaplas had exceeded that of many other exhibitions in the same industry. Mr. Kenny Wu, Corporate President, Shini Group said, "Chinaplas has been growing successfully and its influence is prominent to the world. It is honoured to participate in this fair."
With the rising demand on the plastics and rubber technology and the recycling technology for the plastic products, it is anticipated that the potential development of the plastics and rubber industries will be enormous. Chinaplas will follow closely the market trend and needs of the industry to provide a buying and technological exchange platform across the world.
This year, Chinaplas received a well participation of more than 2,200 exhibitors from 35 countries and regions, with over 200 are first-time exhibitors, such as Shanghai Machinery & Equipment Co., Ltd., 3M, Mahlo Gmbh & Co. KG, Andritz Biax, Samsung Cheil Industries Inc, Styron LLC, etc. Apart from Turkey, the newly joined pavilion, Austria, Canada, France, Germany, Italy, Japan, UK, USA, China and Taiwan pavilions will demonstrate their strong presence again this year.
Chinaplas 2011 will have over 80,000 visitors, expecting 18% are overseas buyers from 130 countries and regions. Currently, overseas delegations like Brazil, Egypt, India, Indonesia, Iran, Russia, etc. will visit the show. In China, many well-known enterprises have already pre-registered online, such as Drager, Southern Packaging, CPMC, Guangzhou Wanglaoji Pharmaceutical, Lee Kum Kee, JDB Group, Danone, Pepsi, Delphi, Foxconn, Vtech, Siemens, BYD Auto, Zhongtong Automotive Parts, BorgWarner, Bosch, Yanfeng Visteon, Honda, East Pipe, etc. All buyers and visitors can explore the boundless opportunities with over 2,200 exhibitors during the show.