Plastics can be put to more varied uses than ever before nowadays. So it is no surprise that designers are faithful to them and regularly discover new sides to them. The unlimited possibilities have a downside as well, however: they make it difficult to commit oneself. "You can do whatever you want with the material – and that is exactly the problem designers – or I at least – face", Konstantin Grcic admitted in an interview in 1988. Nine years later, at "K 2007" in Düsseldorf, Grcic's chair "Myto" "Myto" premiered.
A monoblock cantilever chair made from polybutylene terephthalate ("Ultradur High Speed"), developed by BASF; the Italian furniture manufacturer Plank is responsible for producing and selling the chair. On this occasion, the properties of the material determined the scope available for design creativity.
In a manner of speaking, the design serves to highlight the potential of the new plastic Ultradur, aiming to exploit its excellent flow properties to the full and to demonstrate them in a complex object that is styled comprehensively, right down to the smallest detail. In the final analysis, this is also what justified presentation of Myto first of all at the Düsseldorf plastics trade fair rather than at the obvious choice of the International Furniture Fair in Milan, where Myto was showcased a year later.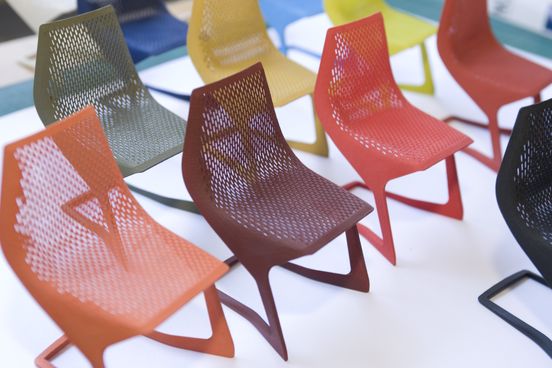 Andrej Kupetz identifies a new trend in the development of the material, the properties of which specify the design principle – something that could set a precedent for plastic design in the 21st century. It cannot, however, be expected that designers will submit to this trend in the long term. They are likely to experience problems with their own conception of themselves if they are labelled as mere assistants to industry.
Incidentally: since 2006, industrial designers have had the opportunity to obtain advice about plastics at the BASF "design factory" in Ludwigshafen, although no-one expects or demands that product designers turn into polymer experts. "It goes without saying that we have to know about the material, but we do not need to be specialists", is how Grcic puts it too. "We benefit from our naivety, because an open-minded spirit is able to take advantage of the material in a completely different way. In his initial designs for Kartell, Philippe Starck was completely inexperienced in dealing with plastic. He was able to take a fresh look and come up with entirely new inventions. As a result of this, a seam that was a technical necessity became an ornament, a distinctive feature."
Myto is not, of course, the first cantilever chair and is not the first one made of plastic either. The prototype was created in 1960 by the Danish designer Verner Panton (1926-1998) with his "Panton Chair", a chair that is moulded completely in one piece and that fills space like a single curved line.
The material, styrene acrylonitrile copolymers (Luran S) modified with acrylic rubber to provide impact resistance, also comes from the BASF laboratories. Its aesthetic shape made it a sensation at the time and it is now an icon of plastic design, although it is far less well-known and is in far less widespread use than the monoblock that graced or – as we think nowadays - disfigured terraces and gardens by the million until recently.
What we are talking about here is the first stackable chair made of plastic (polyethylene, polypropylene), which is or was extremely popular, because it is practical and not at all expensive while being recyclable too. The monoblock has more critics than friends in the meantime. In Freiburg im Breisgau, it has been banned completely from outdoor catering outlets – in an attempt to reduce visual pollution of the environment. "The main advantages of the monoblock were its low price and its functional efficiency. At the aesthetic level, it reflected mass taste, not dissimilar to Gelsenkirchen baroque", says the industrial designer Jörg Gätjens (see also Interview) from Cologne. "To be honest, most designers always considered the chair to be terrible, but it was a successful product for a long time anyway.