The Bakelite heyday did not last very long. The gloomy colour of the plastic was considered to be a disadvantage and restricted the range of possible uses. Melamine resin, on the other hand, could be given many different colours – even almost pure white – which made it the plastic of choice for tableware, for example.
Since then, plastics have become a symbol of practically unlimited choice where both colour and, above all, shape are concerned. Product styling is sometimes "sober" and sometimes "bizarre", while the irreconcilable opposites of minimalistic understatement and brash exuberance are encountered depending on the zeitgeist and design concept (see "Current exhibitions: plastics in museums").
The dominant trend at the moment is reduction – as a design tool, but also where weight and costs are concerned. Plastic remains a lightweight material even where large volumes are involved; the objects can be reproduced as often as is required, particularly by the injection moulding process, while the unit price gets lower and lower the larger the production run.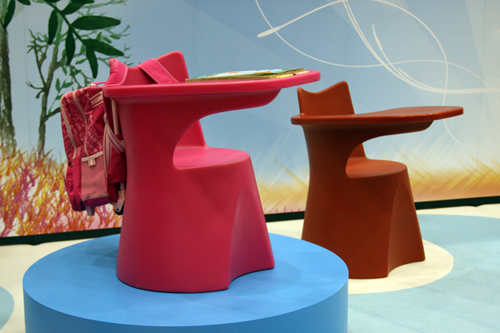 Attractive features that make demand for plastics so strong – something that is not a recent development but was already a convincing argument when industrial mass production was just starting to establish itself – and became the driving force behind this movement. The "all-purpose" material outshines wood, glass and metal in many respects, albeit at the expense of an appearance that takes some getting used to occasionally at the aesthetic level.
Quite apart from the fact that some plastics suffer from the effects of oxygen (oxidation), humidity, UV radiation and microorganisms: they are deformed or discoloured, become brittle or tacky, lose their gloss and start to look shabby. In extreme cases, they even disintegrate into their basic components sooner or later, i.e. the polymers (huge molecules) become monomers again.
Problems are encountered primarily with objects made from celluloid, complain the curators of the plastic museum "Plart" in Naples. Seating made from foamed polyurethane can literally disintegrate in the course of time too, however. Fortunately, this is now a thing of the past to a large extent: plastic designers no longer need to worry about the durability of their material.
Stabilisers and additives have made plastics much more durable, weather-resistant and scratch-resistant. There has been progress at the aesthetic level too: polypropylene, for example, used to be a milky substance, but polymer research has in the meantime succeeded in producing translucent polypropylene that looks almost like glass, which is processed into objects with a grainy, slightly rough surface.
From the mid-90s onwards, style was defined here by the bathroom and kitchen accessories developed by the German company "Authentics", established by Hansjerg Maier-Aichen, Professor for Product Design at the Design University (HfG) in Karlsruhe. The services of Konstantic Grcic (born in 1965) from Munich, the superstar of the German design community, as a designer were obtained. To enable the characteristic surface structure to be achieved, the metal mould was processed in an etching bath.
Grcic: "The method produces not just a new look but also a new feel, the object makes a warmer and, at the same time, higher-quality impression." What is known as "author design" has a tradition in the plastic field, attracting not only Grcic, who the magazine "art" has called the "greatest living designer", but also such illustrious names as Eero Aarnio (born in Finland in 1932) with his "Bubble Chair" (1968), Luigi (Lutz) Colani (born in Germany in 1968) with his "Zocker Seat" (1971), Vico Magistretti (1920-2006) from Italy with his standard lamp "Mezzachimera" (1969), Jasper Morrison (born in England in 1959) with his "Basel Chair" (2008), Ettore Sottsass (1917-2007), Italo-Austrian, with his portable typewriter "Valentine" (1968), Philippe Starck (born in France in 1949) with his "Mr. Impossible Chair" (2007) and Wilhelm Wagenfeld (1900-1990) from Germany with aircraft tableware for Lufthansa (1955).