Bayer MaterialScience develops high-performance materials for industrial applications.
Volume holograms enable the generation of three-dimensional images and should soon become a common feature in different areas of our daily lives. Besides creating fascinating optical effects, they can also be used to make ID cards and other documents forgery-proof. Further potential applications for the future range from brand protection through electronic displays to three-dimensional TVs that don't require the use of 3D glasses.
In the past, however, there had been a problem with the availability of suitable materials for mass production, for example the necessary light-sensitive substances, known as photopolymers. Bayer MaterialScience is a world leader in the development of these materials. Holographic information "inscribed" onto photopolymers by exposing them to laser beams can subsequently be made visible by various means.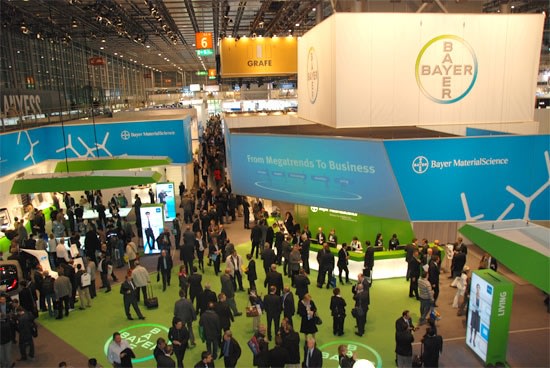 Current developments are focusing primarily on the use of photopolymers in light-sensitive films that either deflect light or are able to form visible images from incident light. Bayer MaterialScience is currently preparing to launch the first photopolymer product grades on the market under the name Bayfol HX. Unlike the materials available at present, these photopolymer films require no subsequent chemical or thermal treatment, which should make them suitable for the cost-effective mass-production of volume holograms.
Looking to extend their applications beyond security cards and brand protection, researchers at Bayer MaterialScience are working hand in hand with partner companies to develop faithful color reproductions of 3D images and an accurate method of guiding light. "These films have the potential to become a leading material for light management in new technologies, for example in 3D displays of the future and energy efficient lighting technologies such as LEDs," said Dr. Thomas Fäcke, head of the holography research segment at Bayer MaterialScience.
Thanks to these outstanding properties, the films can also be used to create holographic optical elements (HOEs) that can reproduce the optical functions of lenses, mirrors and prisms in a thin film, or even combine them with one another.
Under the leadership of Dr. Friedrich-Karl Bruder, Bayer MaterialScience has carried out extensive research into photopolymers that constitutes a major step forward in the industrial use of volume holography. In recognition of his efforts Bruder was last year presented with the North Rhine-Westphalia innovation award.