2. Efficient use of the fleet of carriers.
Conducting research on customer needs of Elkom Trade S.A. observes the phenomenon of inefficient use of available media. This is related to the following factors:
a) the problem with the quantification of the full demand for packaging (warehouse, production, in transport, at the customer, safety buffer, seasonal peaks)
b) loss or lack of information about the location of the packaging, damage, untimely return of the packaging (customer retention)
c) return of the wrong or damaged carrier
d) limited functionality of the packaging (no possibility of folding, stacking, economical internal and external transport)
e) unrecognized costs of packaging rotation (unspecified, variable, high)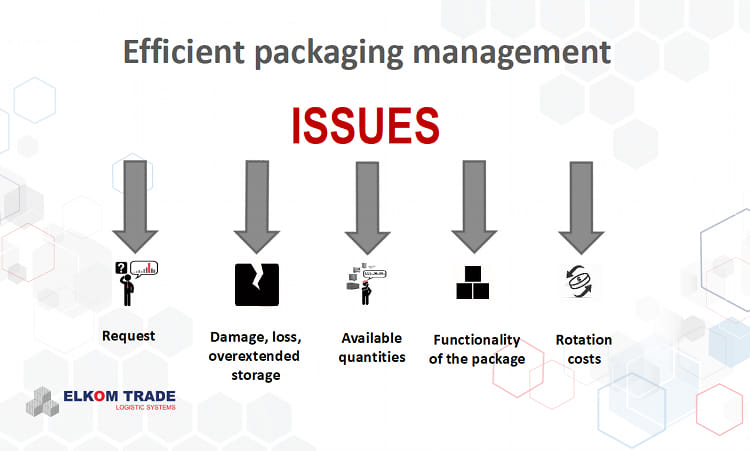 3. Service as an important element of the media management process.
Metal rotating packaging is characterized by "longevity". Nearly 10-year average service life of containers, storage in difficult weather conditions, improper service and mechanical damage make it necessary to repair, renovate and wash them. For a long time, the recipients of Elkom Trade SA's logistics systems have been paying attention to the aspect of maintaining containers in a condition that enables their further use. It is not without significance that the purchase of a fleet is a considerable investment for the company. Caring for expensive equipment (often also containers for permanent assets) is becoming an urgent problem. The vision of another large investment in the fleet because of old wear is a sufficient motivator to think about the service option. Assuming the correct use of containers, the need to service them appears after a maximum of about 8 years. It usually refers to the replacement of used plastic plates. The cleanliness of the carrier becomes a significant problem. There are natural soils (dust, mud), in the mesh containers you can also notice the remains of products from damaged primary packaging (organic substances). As a result of storage and storage in unfavorable weather conditions, corrosion and defects in the protective coating appear.