Wipak has developed a special production process for this. During film production itself, paper is integrated in the film composite. Super-thin film layers are laminated on the inside of the package against the paper layer. The advantage of this is that the outside of the package has a paper feel, and the oxygen barrier and sealing functions required for protection and freshness are performed as usual by the layers of plastic. The unassuming stick of cheese marketed as the "Stangerl" by Bergader in Germany has become a real big-selling product thanks to its new fresh look.
Back to nature
"Simplicity and sustainability", on the other hand, is the motto of the German display and packaging manufacturer STI Group at interpack. "Packaging solutions are now expected to feature convenience and a minimal ecological footprint," says spokeswoman Claudia Rivinius.
As a first step towards greater sustainability, STI develops its packaging for the food and consumer goods industry mainly using cardboard and corrugated board and largely dispensing with plastics. Familiar to many, the STI classic is the package of the Persil laundry detergent brand with its special tear-open mechanism.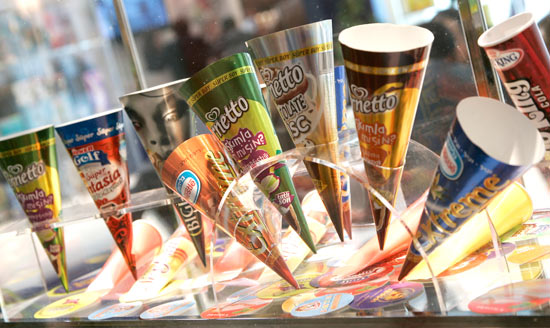 The latest products of the specialist producer include a folded cardboard box for Osram energy-saving lamps. It contains a high proportion of recycled paper, has an organic shape to match that of the lamp, a large window and an open base. The package is therefore not only environment-friendly, but also makes the purchasing decision easier for consumers, enabling them test the lamp on a device installed in the shop without having to open the package.
Critics now claim that the development and production of such packages is elaborate and expensive and ultimately pushes up the cost of the product. Industry, on the other hand, argues that costs are in fact reduced by savings in materials and ongoing improvements in production methods. This sounds plausible, because manufacturers of packaging machines are energetically pushing ahead with innovations.
Ilapak, the Swiss machine manufacturer that now supplies twelve branches of industry in the food and non-food sectors, is currently launching turnkey packaging lines. The benefit is that the machines are perfectly adapted to each other, thus boosting efficiency. "With complete, single-source solutions, industry can cut its costs per packaged unit significantly," promises Ilapak Marketing Manager Christian Romualdi.
Multivac, the German packaging designer and machine manufacturer, is also improving the efficiency of its lines. At interpack, the company plans to present a deep-drawing packaging machine that consumes at least 20 per cent less energy than conventional machines.
Deep-drawing packaging machines are considered all-rounders, capable of packaging food and non-food items automatically. "We save energy by replacing all the pneumatically driven subassemblies with highly efficient electric drive technology," says Multivac Sales Manager Helmut Sparakowski explaining his company's new "e-concept".
But what has Multivac's innovation got to do with convenience? Easier handling and durability have now been joined by sustainability as one of the biggest feel-good factors for consumers. They can therefore be expected to ask increasingly whether products have been manufactured on resource-conserving principles.