Solvay introduces stock shapes of for use in implantable medical devices.
Solvay Advanced Polymers, LLC, has launched a range of stock shapes made of Zeniva PEEK (polyetheretherketone), one of four polymers that comprise the company's family of Solviva Biomaterials being offered for use in implantable medical devices. The company made the announcement at the 2009 annual meeting of the American Academy of Orthopaedic Surgeons (AAOS) this week in Las Vegas, Nev.
Stock shapes made of Zeniva PEEK offer a combination of superlative properties, including broad chemical resistance, high strength and stiffness, excellent toughness, and fatigue resistance. They are ideal for close tolerance machining of finished components and for prototypes used in injection molding applications. Rods and plates are available in a range of sizes directly from Solvay Advanced Polymers, according to Judy Melville, the company's healthcare industry manager. Typical applications include spinal implants, pacemaker components, and cardiovascular connectors.
Zeniva PEEK resin and stock shapes comply with ISO 13485 manufacturing and meet current Good Manufacturing Practices (GMP). Based on rigorous biocompatibility testing, these products demonstrate no evidence of cytotoxicity, sensitization, irritation, or acute systemic toxicity as defined by ISO 10993. These materials can be sterilized using all conventional methods, including gamma radiation, ethylene oxide, and steam.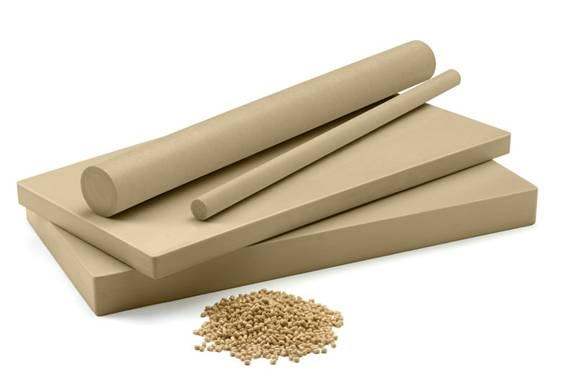 In addition to Zeniva PEEK, Solviva Biomaterials include Proniva self-reinforced polyphenylene, Veriva polyphenylsulfone, and Eviva polysulfone. These biomaterials are offered for use in implantable devices for short-term and long-term use.
Solvay Advanced Polymers, LLC, produces more plastics with more performance than any other company in the world. This gives design engineers worldwide more ways to solve top design challenges in automotive, healthcare, electronics, aerospace and other demanding industries.
Solvay is an international chemical and pharmaceutical Group with headquarters in Brussels. Its companies employ more than 28,000 people in 50 countries. In 2007, its consolidated sales amounted to EUR 9.6 billion, generated by its three sectors of activity: Plastics, Chemicals and Pharmaceuticals.