Hot Runners
Summit-Series Hot Runner for Premium Applications
The Summit-Series is Mold-Masters' new, premium hot runner line. The new hot runner nozzle has four times less thermal variation from set point, compared to the typical thermal variation seen in a nozzle with a heater band. The Summit-Series hot runner is built completely from stainless steel, which makes it ideal for molding shear and temperature-sensitive resins like PC, POM and PBT. The nozzle profile positively affects balance and is especially effective for medical market molding where precision is paramount. The Summit-Series also can also be ordered with new servo-controlled valve-gate actuators, which allow for individual speed, time and position control of each valve pin in the mold. The Summit-Series is clean room-ready and is the perfect hot runner solution for any molder looking to reduce risk and optimize molding process parameters with minimized variance and strong, repeatable results.
Fusion G2 Series Hot Runner
Milacron has developed new enhanced features in the Fusion G2 series for automotive and large-part. An extended nozzle length range provides more flexibility while the compound nozzle can be used to avoid interferences with cavity cooling lines, and position nozzles in very tight pockets. Fusion G2 is now available with valve pin open speed control and position monitoring that enables improved surface finishes at the gate of the part. Options for extra-extended gate seals are now also available on the entire Fusion G2 product line.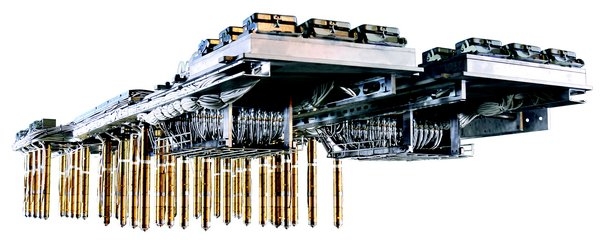 Automotive Lens and Lighting Hot Runner Developments
Mold-Masters hot runners for lighting applications have utilized features in the Master-Series and Dura product range. The developments focus on part quality and flexibility for customers. The new smarter angled manifold designs make installations easier and reduce the cost on mold machining. New gating styles and new valve pins with superior flow profile allow for perfect gate quality and the new heater path at main manifolds offer less zones to control without jeopardizing the thermal balancing. The new valve pin position sensors fine tune the injection process, dual thermocouples on nozzles to avoid the production fails and proven Fusion G2 actuators that bring repeatability on gate closing, cooling water jackets.