Materials will play an increasingly important role helping the auto industry resolve fuel economy and emissions challenges, according to 95 percent of design engineers surveyed by DuPont Automotive and the Society of Automotive Engineers (SAE).
Battery development and powertrain systems are poised to receive the greatest benefit, say 81 percent and 59 percent of respondents, respectively.
More than 500 SAE members responded to the survey, commissioned by DuPont and performed by Signet Research, Inc., Cliffside Park, N.J. Half the respondents represent automakers and half are from the supply base.
"As fuel economy and emissions regulations challenge the design of practically every vehicle system, materials have become integral to design," said David Glasscock, Ph.D., DuPont global automotive technology director. Two key DuPont initiatives include materials and science-powered innovation for next-generation hybrid and electric vehicle battery and insulation systems, and advanced metals replacement programs designed to significantly reduce mass in all vehicle systems.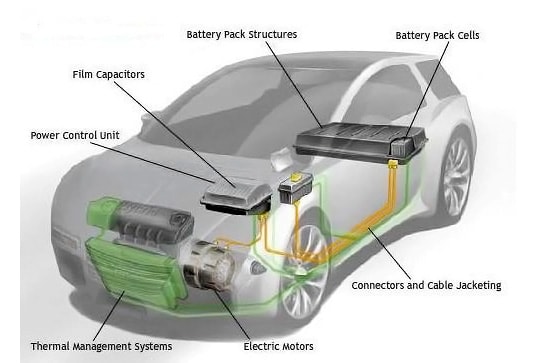 Environmental regulations are influencing vehicle design, say 93 percent of respondents – up from just 60 percent five years ago. To meet regulations, the industry will continue to downsize engines and add power-boost technologies,say 61 percent of respondents; develop hybrid and electric powertrains, say 51 percent and rely on lightweight structural materials, say 28 percent.
Engine downsizing – exacting 6-cylinder performance from a 4-cylinder engine – requires a number of power-boosting technologies, such as turbo chargers, which drive up temperature, increase pressures and create aggressive chemical environments, explained Glasscock.
This year DuPont launched a family of long-term heat resistant Zytel PLUS nylon products that were quickly adopted into an award-winning engine cover for General Motors and will commercialize in an exhaust-gas recirculation (EGR) system in Europe next month. "The industry is hungry for these kinds of long-term heat aging resistant plastics and elastomers to avoid having to return to costly, heavier metals," said Glasscock. DuPont Nomex brand fiber uniquely protects critical hoses in the turbo charger from extreme temperatures and pressures, enabling reliable performance and longer life.
Last year, DuPont introduced the first nanofiber-based polymeric battery separator that boosts the performance and safety of lithium ion batteries. DuPont Energain battery separators can increase power 15 to 30 percent, increase battery life by up to 20 percent and improve battery safety by providing stability at high temperatures. With more battery power, drivers can travel farther on a single charge and accelerate more quickly and safely.
With rising fuel costs and regulatory requirements driving weight-reduction, the need for composites and plastics is urgent, said Glasscock. For example, if the approximately 70 million light-vehicle engines slated for build this year used plastics instead of metal in known underhood applications, we could eliminate the need for 240 million gallons of fuel – or 9 million barrels of crude oil used for transportation, he explained.
Current DuPont efforts to reduce mass range from additional high-heat, chemically resistant materials that can replace metal in engine and driveline systems to structural lightweight material breakthroughs for use in chassis and body systems that promise double-digit weight savings.
"Clearly this is still a gap – but one that global, collaborative development programs will surely move quickly to close," said Glasscock pointing to the sense of optimism that pervades the survey.
In five years, the industry will be capable of weathering market fluctuations, say 53 percent of respondents – up from only 36 percent today. Critical to success, according to 52 percent of respondents, is the ability to collaborate throughout the value chain and a stronger focus on the consumer.
"Clearly the engineers know how to make a fuel-efficient vehicle – it's making one that consumers can afford – and especially enjoy – that is the challenge," said Glasscock. "This is a pivotal time in automotive history and the perfect time to connect the DuPont team of experienced technical developers with our customers' best technical minds to innovate a path toward less dependence on fossil fuels."