At this year's Chinaplas in Shanghai from 24th to 27th April, KraussMaffei Berstorff will exhibit the new ZE-CN twin-screw extruder series in hall 2H, booth 2T01. This new extruder generation stands out for substantially enhanced performance and uncompromising flexibility. Through state-of-the-art technology, this series has been further upgraded and adapted to higher productivity requirements. It is aimed specifically at Chinese compounders with exacting quality standards.
"Offering unparalleled productivity and maximum availability, KraussMaffei Berstorff twin-screw extruders have earned an excellent reputation in China," says Bengt Schmidt, Vice President at KraussMaffei Berstorff in the People's Republic. "We are highly motivated to continue this promising success story and offer our customers a decisive performance increase in compounding with the new series."
Substantial increase in performance and enhanced flexibility
The development of the new ZE-CN twin-screw extruder generation is based on the know-how KraussMaffei Berstorff has gathered with several thousands of twin-screw extruders installed around the globe. As compared to the previous ZE Performance series, the ZE-CN features 15 percent higher output rates and up to 20 percent more flexibility in process applications, boosting the performance of Chinese customers to new heights. The state-of-the-art control software can be seamlessly integrated into the digital factory, ready for Industry 4.0 (Internet of Things). All components are produced either directly by KraussMaffei Berstorff or by renowned Chinese and international suppliers in compliance with KraussMaffei Berstorff's specifications.
The series is characterized a constant level of excellent product quality, easy operation and uncompromising reliability. Its high productivity makes it a safe investment with a short payback period. The new series is completely assembled at our Chinese site in Haiyan, which works also as service hub for our Chinese and Asian customers.
One-stop solutions
In addition to the new twin-screw extruder, KraussMaffei Berstorff offers compounding companies an extensive portfolio of technical and engineering services and consulting. KraussMaffei Berstorff is strongly committed to strengthening the competitiveness and performance of its customers in the compounding industry.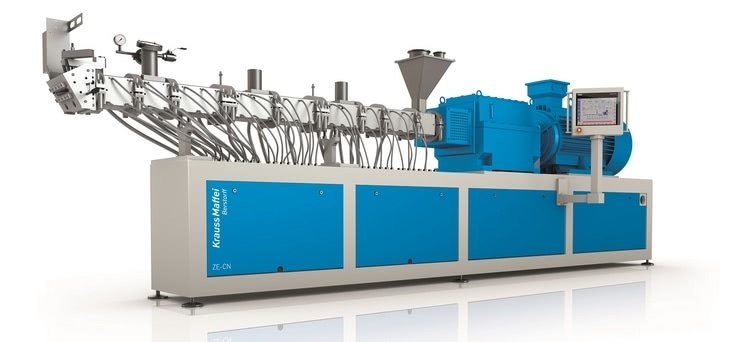 KraussMaffei Berstorff's new ZE 52 x 48 D CN twin-screw extruder with enhanced performance for higher cost-effectiveness
Source: KraussMaffei Berstorff