Global Colors Polska is Poland's leading manufacturer of color and additive masterbatches. We publish an interview with Adam Maciejewski, General Manager in Global Colors Polska.
Global Colors Polska had not participated at the Plastpol fair since 2008 . This year you have appeared in Kielce first time after the break. What made you decide to take such a decision?
Adam Maciejewski: -
On June 1st 2011 we celebrated the tenth anniversary of the company. And it was the first reason for our presence at Plastpol, the fair took place almost in the same period. There were, of course, other causes of our attendance this year and absence in the previous years. Our strategy is: to effectively participate at fairs you have to attend every two-three years. In my opinion this frequency is proper to present what has changed in the industry and newly developed products. Annual presentation of the offer creates monotony. Several years of absence give us the possibility of an optimal presentation of our recent achievements.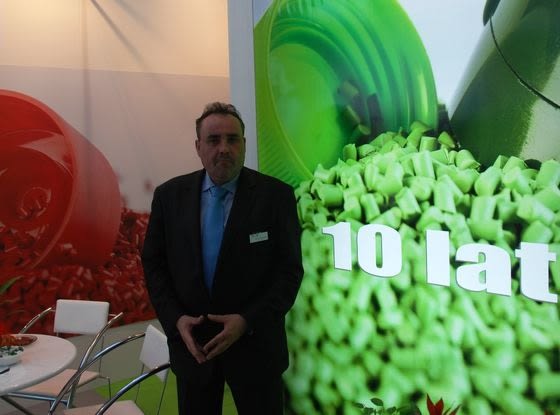 Talking about the company development, first of all let's focus on the products. Which new products have been developed in Global Colors Polska after 2008?
We are manufacturer of masterbatches for a very broad spectrum of applications . We have modern production lines for white masterbaches, color masterbatches, additive masterbatches and fillers. Manufacturing of masterbatches for coloring and supporting the production PE, PP and PS membranes has been our strength for many years.
Our clients include the largest manufacturers of plastic packaging in Poland, the Czech Republic, Slovakia, Germany, England, Belgium, Belarus and Russia. But I have to admit that the domestic market is our highest priority. Our white masterbatches ensure a convenient way of introducing titanium white into thermoplastic products for their white coloring and to obtain good cover without dusting the surrounding area.
Color masterbatches are intended for coloring plastic products by means of blow molding, extrusion and injection. Regarding our implemented innovations, we are working with the ICSO from Kędzierzyn - Koźle on a new and very promising project of broadly defined nanocomposites. We test at the company and deliver to our customers new antyblocking and slip masterbatches, which are much more efficient than what is currently on the market. Besides we introduce various new combinations of white masterbatches with different additives.
It is known that in recent years, a large machine park of Global Colors Polska has been modernised.
It is true. It has been enriched with five new production lines, which significantly raised our capacity for color masterbatches and additive masterbatches. We manufacture high concentration white mastrebraches with the highest capacity in Poland and entire Eastern Europe.
We have created the laboratory department, in my opinion one of the best in the industry in this part of Europe. This allow us to speed up a color selection and reduce customer wait time.
Color matching service is delivered fast to the packaging food industry, mainly concerning cups for dairy products, trays, containers. Thanks the laboratory department we are able to reach nishes. The case concerns mainly the manufacturers of home appliances and manufacture of masterbatches with special effects, with pearlescent and metallic pigments which stress the uniqueness of the packages. These masterbatches are relevant for example, for the cosmetics industry and are used to form bottles and perfume bottles.
And what about your market position? Has it changed during the past three years? Of course you are still the largest producer of masterbatches in Poland.
Considering quantity, certainly yes - especially due to the largest production line for white masterbatches and fillers. During those three years, our market share has increased by 10-12% , and I'm not just talking about sales and earnings. Estimated progress in the raw material segment operated by us is around 40% at the moment; proverbially speaking, we get a big piece of cake.
Global Colors Polska has had 10 years of the market presence. What is your biggest success in this decade?
I will try to focus on the three most important factors. First of all, since 2001 sales revenues rose more than 10 times. This shows that the company goes ahead and gains profits all the time. During this decade, our production capacity highly increased, we have a modern laboratory. In addition, employment tripled. Our motto "global presence, local service" fully reflects our method of operation, i.e. care of perfect relations with our clients and the guarantee of technical and commercial support at the highest level.