Innovative formulation technology now enables Teknor Apex Company to manufacture flexible vinyl compounds that reduce emission of volatile organic compounds (VOCs) by 80% or more in comparison with conventional counterparts, it was announced today by the company's Vinyl Division.
The low-VOC versions of Teknor Apex's Apex compounds are for use in profiles and molded items, extrusion coated fabrics, and extruded and calendered sheet used in residential and institutional furniture and furnishings. Some examples of applications are wall coverings, window treatments, office partitions, furniture trim, and baseboards. Supplied on a custom basis, the new compounds exhibit the same processing and end-use properties as similar conventional products and are comparably priced, according to Philip Morin, manager of consumer and industrial markets.
- Teknor Apex has developed its low-VOC formulation technology to help manufacturers achieve certification under voluntary air-quality standards developed by industry groups for a wide range of substances, including vinyl - said Morin. - These industry standards are being used as a reference by green building guideline organizations such as the United States Green Building Council (USGBC) and Leadership for Energy and Environmental Design (LEED).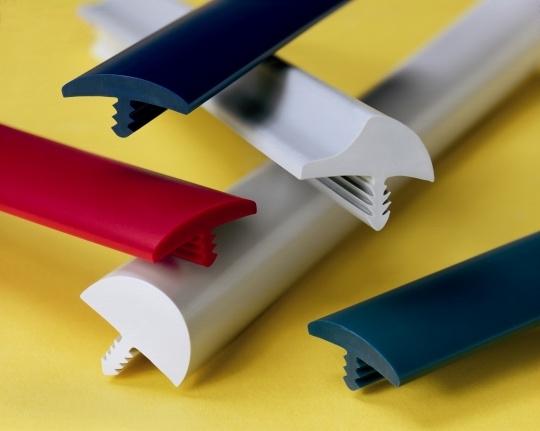 The new low-VOC compounds are part of a broader Teknor Apex program to expand options for customers looking to address environmental issues, according to Louis R. Cappucci, vice president in charge of Teknor Apex Vinyl Division. - We now meet demand for RoHS -compliance in every one of our compound product groups, have eliminated lead stabilizers from our entire product range, and have formulated a number of compounds that use non-phthalate alternative plasticizers - Cappucci said. - In contrast to the all-or-nothing thinking of anti-PVC activists, we continue to develop new flexible vinyl products to meet the changing demands of our customers and their markets. There is no reason to think that we will stop anytime soon.
VOC emissions from conventional vinyl compounds stem chiefly from additive ingredients rather than PVC resin. Typically the VOC quantities are exceedingly small. In home and office environments, emissions of VOCs may also come from insulation, carpeting, paints and coatings, adhesives, sealants, and numerous other substances. It is the combined build up that has been the cause of concern among architects, builders, and interior designers.
The Vinyl Division of Teknor Apex Company is a leading manufacturer of compounds based on PVC, including Apex flexible vinyl, Flexalloy vinyl TPEs, and Fireguard low-flame, low-smoke compounds for wire and cable. Headquartered in Pawtucket, Rhode Island, U.S.A., the Division is an international supplier to the appliance, automotive, construction, medical device, wire and cable, and other industries. In addition to its vinyl business, other Teknor Apex plastics businesses include the Chemical Div., Engineering Thermoplastics Div., Specialty Compounding Div., Teknor Color Company, and Thermoplastic Elastomer Div. International subsidiaries include Singapore Polymer Corp., Teknor Apex Suzhou, and Teknor Apex UK.