At Fakuma 2017, Italian hot runner specialist HRSflow has showcased hot runner solutions for food and cosmetic applications. For the production of beverage bottle caps, the company has configured a 96-cavity hot half thermal gate that offers extremely short cycle times combined with maximum process reliability. In addition, with the example of thick-walled samples of SMMA and SAN, HRSflow demonstrated how the hot runner nozzles of the M series can contribute to the reliable manufacture of high-quality cosmetic jars that are free of surface defects such as sink marks, flow marks or stains.
Short cycle times for beverage bottle caps
Corvaglia,a Swiss supplier of caps and closures for PET bottles, uses a hot side from HRSflow designed for 96 cavities. Mounted on a mold from Corvaglia Mould Technology, the system allows a cycle time of only 2.15 s for the manufacture of HDPE caps for still bottled water that weigh only 0.82 g. Thanks to the optimal balancing of the system, this leads to high process stability and uniformity of the molded parts despite the low shot weight.
The outstandingly short cycle time has been made possible by the thermal gate of HRSflow's MTF (Multicavity Fast Line), specifically developed for such kind of applications. The thermal gate is designed in such a way that, even with such short cycle times, there is no stringing at the gate, thus ensuring optimum gate quality. During design, particular attention was paid to making sure that the system avoids any overheating of the resin due to shear effects and that a uniform thermal profile is maintained along the entire flow path of the melt from the entry into the hot runner to the gating area. The special geometry of the nozzle tip also helps to prevent an increase in the melt temperature. Because the temperature of the polymer is thus under full control at all times, it is also possible to save time during the cooling phase. For this reason, the hot runner nozzles of the MTF family are especially suitable for applications that require very short cycle times combined with a top-quality appearance of the molding.
Outstanding surfaces for thick-walled cosmetic jars
For the injection molding of high-quality cosmetic packaging, HRSflow offers its M series of hot runner nozzles, which allow the manufacture of thick-walled jars and lids without any surface defects such as sink marks, flow lines or stains. They thus guarantee the faultless appearance specified by manufacturers of premium cosmetics. On its stand at Fakuma, the company will show different thick-walled aesthetic samples made of SMMA (styrene methyl methacrylate) and SAN (styrene acrylonitrile copolymer), designed with a high-gloss surface.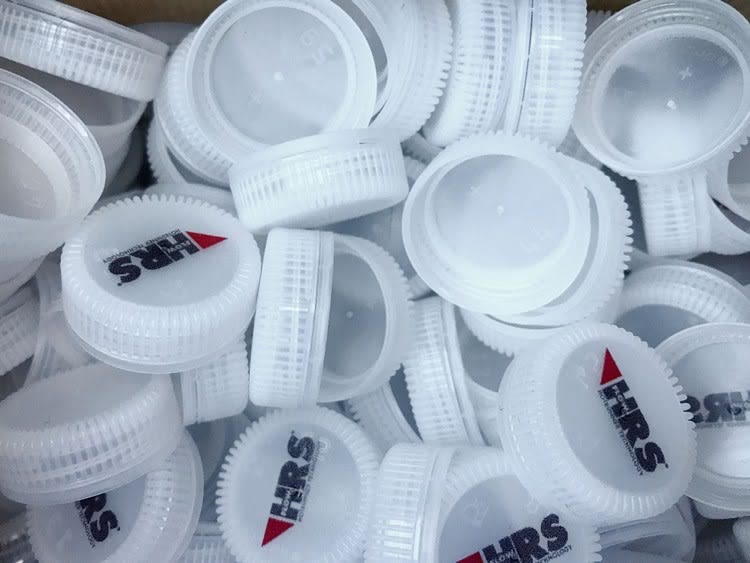 A Multicavity Fast Line system from HRSflow allows cycle times of only 2.15 s for the injection molding of bottle caps that weigh less than 1 g in a 96-cavity mold © HRSflow
Source:HRSflow