WITTMANN's range of granulators will be shown at the Chinaplas as well. The exhibits will include the MAS 2A grinder, the screenless beside-the-press granulator models Minor 2 and Junior 2 Compact, and two beside-the-press granulators from the G-Max series, a G-Max 12 and the powerful G-Max 33. The granulators from the G-Max series are designed for inline recycling of sprue from injection molding machines with clamping forces of up to 4,000 kN. They stand out by their high degree of efficiency and compact dimensions, and are equipped with a sound-insulated cutting chamber, to minimize the noise level.
In the area of materials handling, WITTMANN will demonstrate its expertise with the stand-alone loaders FEEDMAX S 3-net as well as central separators from the FEEDMAX B series. Both types of material loaders offer maintenance-friendliness, process reliability and easy operation.
The blenders presented by the company will be a GRAVIMAX G34 gravimetric blender with a throughput of up to 200 kg/h and a DOSIMAX volumetric blender. The GRAVIMAX comes with wear-resistant, high-precision stainless steel valves. Its metering accuracy is ensured by RTLS technology (real-time weighing). Two weighing cells are active throughout the entire metering cycle, which measure precisely down to the gram and thus ensure a consistently high parts quality for every shot.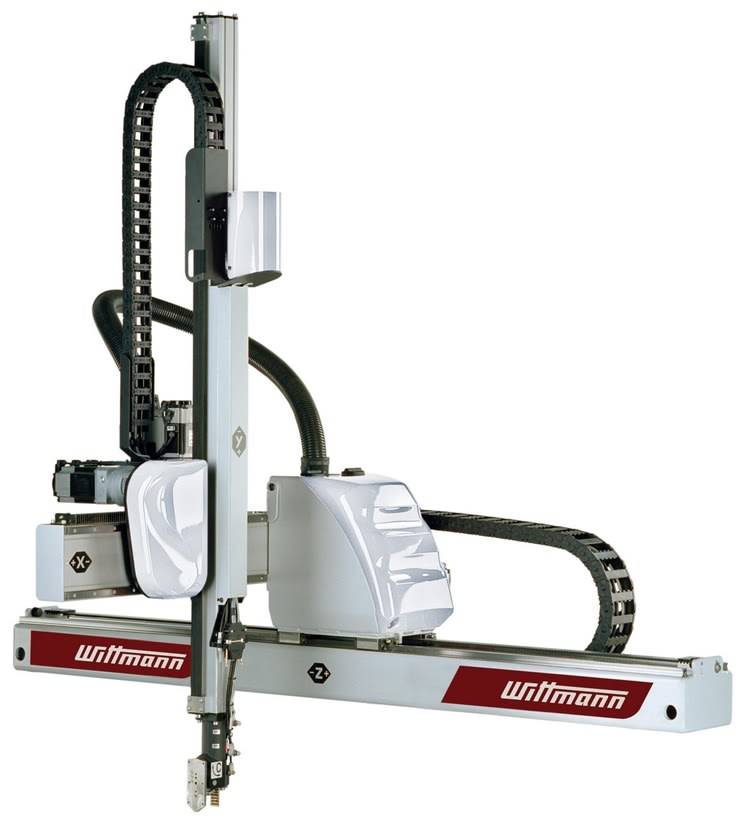 WITTMANN PRIMUS 16 robot
The WITTMANN Group
The WITTMANN Group is a worldwide leader in the manufacturing of injection molding machines, robots and peripheral equipment for the plastics industry. Headquartered in Vienna/Austria, the WITTMANN Group consists of two main divisions, WITTMANN BATTENFELD and WITTMANN, which operate 8 production facilities in 5 countries, including more than 33 direct subsidiary offices located in all major plastics markets around the world.
WITTMANN BATTENFELD focuses on independent market growth in the manufacturing of state-of-the art injection molding machines and process technology, providing a modern and comprehensive range of machinery in a modular design that meets the actual and future requirements of the plastic injection molding market.
WITTMANN's product range includes robots and automation systems, material handling systems, dryers, gravimetric and volumetric blenders, granulators, mold temperature controllers and chillers. With this comprehensive range of peripheral equipment, WITTMANN can provide plastics processors with solutions that cover all production requirements, ranging from autonomous work cells to integrated plant-wide systems.
The syndication of the WITTMANN Group has led to connectivity between all product lines, providing the advantage plastics processors have been looking for in terms of a seamless integration of injection molding machines, automation and auxiliary equipment – all occurring at a progressive rate.
In China, the WITTMANN group is present with its own production facility in Kunshan and its sales and service subsidiary, WITTMANN BATTENFELD (Shanghai) Co., Ltd., also based in Kunshan, as well as additional offices in Shenzen, Tianjin, Chengdu and Changchun.
Source: WITTMANN BATTENFELD