No longer are they merely decoration. Labels today are performing more and more functions. In addition to the marketing aspect of a finely printed label for a brand, labels are also used to guard against counterfeiting and tampering. Advances in print technology make it possible to integrate new functions into labels. At interpack PROCESSES AND PACKAGING 2008 from 24 to 30 April in Düsseldorf, manufacturers of label materials and applicator systems will display their latest developments.
Shrink sleeves are becoming increasingly popular for the decoration of containers. The sleeves, applied over the container and then treated under heat in a shrink tunnel, conform to any shape of product. This type of decoration is ideal for waisted plastic bottles of the type popular for dairy products, for example.
Shrink sleeves have high growth potential. They conform to any shape, decorate the full surface including shoulder area and can even also secure the cap. In contrast to directly printed containers, there is no need to hold stocks of preprinted products. One advantage for the food industry is that the labels are applied without glue, eliminating a cleaning operation on the machine. Shrinking takes place in a hot-air, vapour-shrink or infrared tunnel.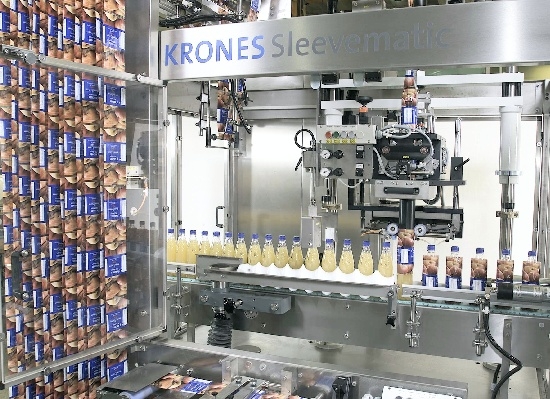 Three main materials with different shrinkage properties are used for the labels. In Europe, PVC (polyvinyl chloride) is used in 50 percent of cases. Depending on type and manufacturer, PVC displays a shrinkage rate of 45 to 66 percent. The greatest amount of shrinkage is offered by PET at almost 75 percent.
In Japan, the world`s biggest market for shrink sleeves, PET (polyethylene terephthalate) is the leading material ahead of OPS (oriented polystyrene), which has a high shrink rate of 70 percent. One disadvantage of OPS is its limited ?shelf life`, requiring climate-controlled storage at both the label printer and the processor. OPS is mainly found in Asian markets such as Japan, Korea and China.
All materials are reverse printed on the inside to protect the colour from scratches. They are glued to form a sleeve and delivered on rolls. One challenge for printers is to allow for shrinkage of the different materials in the designs so that the print image exactly meets marketing requirements after heat treatment. A large role is also played by creasing, which must be avoided at all costs.
Film labels need to be both flexible and stiff. Up to now, these properties have only been attainable individually using polyethylene or polypropylene. Now a new polyolefin film has been developed specifically as a label material for printable packages such as tubes or cosmetic containers. The films conform to the often complex shaped containers, with the stiffness of the material guaranteeing reliability during application and high dispensing speeds in all-round labelling. Thanks to their good printability, even unusual design challenges can be implemented.
Multilayer labels are the trend for promotion campaigns. For a campaign by Coca Cola Belgium, for example, two-layer labels were produced which can be applied by conventional standard labelling machines. The upper panel with viewing window is integrated in the basic label and can be turned through 360 degrees. The information printed on the basic label becomes visible by turning the panel. The labels offer 75 percent more space for product information or recipes.