Identification becomes increasingly important for traceability
Today, identifying components, selecting pre-set parameters, and saving weld process data are basic requirements for the control architecture and ultrasonic generator software. This data is provided to an overriding PLC via conventional fieldbus interfaces and in a data base all information is allocated to the component. But not only documentation of weld process parameters is part of a complete traceability; single component marking and tagging is also crucial for identification. Herrmann Ultraschall has made it their business to comply with requirements from various industries and to provide customized solutions. In future, expedited by the FDA (US), a Unique Device Identification (UDI) will be required for medical products. Depending on component design and the required durability, marking processes such as scratch embossing, laser, ink jet printing, and barcode labels are used. The customer can select the best suitable marking process, which is integrated as an auxiliary function into the overall concept of an ultrasonic welding machine.
Concept study at Fakuma 2014
Herrmann Ultraschall will demonstrate process interlinking of several production steps: a standard modular ultrasonic welder HiQ Dialog, will be shown in combination with a touch-sensitive small-scale robot, a camera, and a marking device. The robot makes multi-axle handling of the applications possible. A camera checks the parts for their quality and completeness. After the weld process, all parts are individually marked, providing the current date and time and a unique application number.
In future, it will become easier to integrate other processes and auxiliary functions and thus supply supplementary functions from a single source. This not only applies to ultrasonic multi-head machines but also to manual work stations and ultrasonic welding systems. Customer demand is growing. This simplifies production monitoring and quality assurance processes. Herrmann Ultraschall is going the extra mile and implementing further development of existing products to prepare them for "industry 4.0".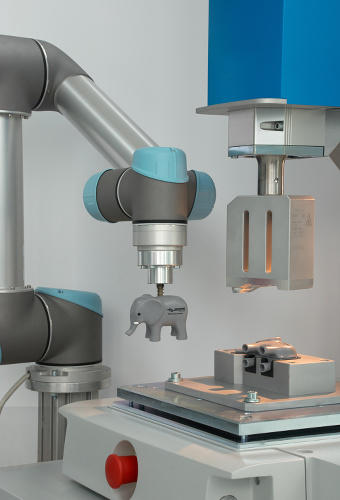 VDMA Blue Competence concept study for Fakuma 2014: Standard modular ultrasonic welder HiQ Dialog with small-scale robot: handling, testing, welding, and marking of a toy elephant
Further information can be found on the company's
website
.