Marbach Werkzeugbau GmbH, a leading global supplier of injection molding and thermoforming tooling and related automation for the packaging industry, has introduced the industry's latest in flexible in-mold labeling (IML) automation for injection molded thin-wall packaging. The debut took the place at K 2010 last month.
The versatile variaSPEED system allows injection molders for the first time to run multiple products on one IML system, thus optimizing the system for each individual product and its production requirements. Marbach made the introduction at K 2010.
"This is a ground-breaking development in I-IML because for the first time processors have the flexibility in manufacturing that will save them time and money," said Hubert Kittelmann, Marbach business director. "We have combined new design and engineering approaches to create a system that more readily adapts to today's changing product cycles and high-output production requirements."
Until now, injection molders have been forced to rely on dedicated I-IML systems that handle specific products and production needs. The growing trend to shorter product life cycles and higher output has lead to a greater need for more flexible IML processing systems, according to Marbach.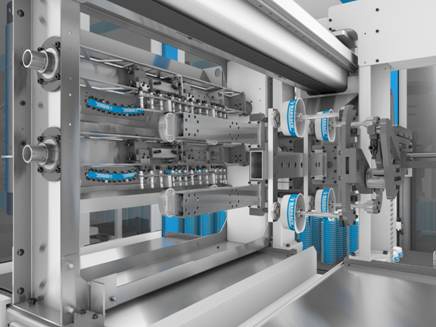 The highly flexible variaSPEED automation system can run one to eight-cavity production cycles with a very quick changeover time of less than 30 min. Rapid changeover is possible with the use of quick changeover format sets for the processing of all label geometries.
The modular construction and compact design results in a small footprint so manufacturing space can be maximized while capital investment costs can be reduced. The system also features a strong, self-supporting standard frame that is cost effective and adaptable to all injection molding machines for thin-wall packaging.
The high-precision variaSPEED boasts a water-cooled and temperature-controlled primary linear guidance rail which provides position tolerance of +- 0.1 mm for exact product labeling. Product conveying is possible in either direction inline with the injection molding machine and label magazines can be filled during production without stopping the machine. The servo-driven linear system reduces cycle times and permits short intrusion time for label insertion/product removal.
Additional options include an energy collection, storage, and reuse system for reduced energy consumption; automatic mold cleaning to reduce label deposits; label monitoring; automatic lubrication of the primary linear axis; push-button emptying of the machine; and integrated quality control by sensors or camera.
Marbach is currently building the first commercial system which will be used for testing and evaluation. The company has been a leading supplier of IML automation systems for injection molding and thermoforming and has strengthened its industry position with the 2008 acquisition of the former company Systec, an injection molding IML specialist. With the acquisition of Systec, Marbach was renamed Marbach moulds & automation GmbH.