With its extrusion lines, KraussMaffei Berstorff is ideally equipped for the rising demands of the American market for an increase in productivity and output in the production process and for top product quality.
At the NPE 2012, the company have demonstrated the proven value of its solutions for these trends, for example, the effective internal pipe cooling system IPC.
"Since the market launch of our innovative system we have received a large amount of orders, particularly from the USA. Our customers appreciate the internal pipe cooling system because it provides them with a simple and effective method of increasing the productivity of their plants and thus the output", said Dr. Hans Ulrich Golz, Managing Director of KraussMaffei Berstorff. "The demand remains high; we have increasing inquiries in the dimension range up to 630 mm", confirmed Golz.
The IPC system – used for PO pipe production for diameters of 110-2500 mm – cools the pipe internally by means of ambient air in addition to conventional external cooling. Producers thus benefit from an outstanding increase in line output of up to 60 percent. Alternatively, the system can also be used if the focus is on the reduction of resources and energy: the cooling section of the pipe systems equipped with IPC technology can be reduced in length by up to 40 percent. The advantages of the savings in acquisition and energy costs are obvious.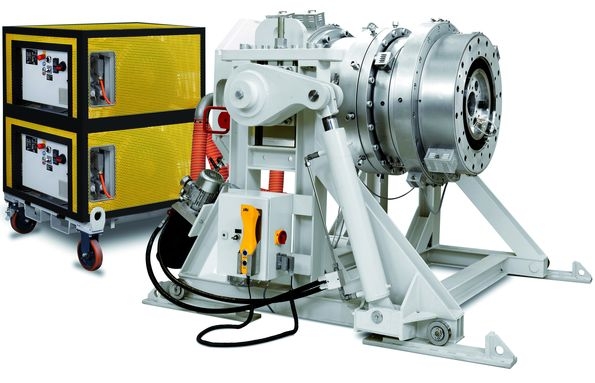 KraussMaffei Berstorff also have exhibited the model KME 125-36 B/R from its globally most successful single screw series, which has proven its value for many years.
"Two buying decision criteria are of definitive importance to our American customers: Perfect product quality and top output levels", explains Paul Caprio, Head of the US subsidiary KraussMaffei Corporation.
These criteria are met by the 36 L/D long processing unit with its unique barrier screw concept, which is ideally suited to processing the wide variety of PO materials. The long processing unit increases the specific melt throughput and thus the output. In the shear and mixing section of the screw, the barrier screw concept guarantees an optimized mixing process; thermal inhomogeneity is eliminated reliably, an optimum melt homogeneity is created combined with a constant low temperature, and the result is an end product of the highest quality.
These criteria are decisive particularly in the American market because, in contrast to Europe, American pipe producers work almost exclusively with "salt-and-pepper" mixtures, which mainly use precompounded polyethylene.