Exhibitors, visitors and conference delegates at the 30th anniversary Utech Europe polyurethanes exhibition and conference held in Maastricht, The Netherlands from 14th - 16th April have confirmed the outstanding success of the event. Utech Europe 2015 attracted 190 exhibiting companies, a 19% increase from when this triennial event was last held in 2012.
Visitor numbers at the event also confirmed Utech Europe's premier position in the calendar of global polyurethane events. The total footfall over the three-day open period was 8,653, with 4,632 unique attendees at the event. A wide range of exhibiting companies praised the event as the ideal platform to present their polyurethane technology and innovations to buyers and influencers from across Europe and the wider world.
"Utech is the leading conference and exhibition event of the polyurethane business here in Europe, and we are looking forward to 2018," says Meike Trier, Marketing Communications Polyurethanes EMEA/LATAM at Bayer MaterialScience. "For us, the exhibition offers an extraordinary platform to meet our customers and present the latest developments. At the conference we had the opportunity to get into direct dialogue with manufacturers and developers."
A perspective shared by Jon Penrice, Global Vice President Dow Polyurethanes: "With its high-quality conference papers and high-value industry engagement, Utech Europe 2015 delivered a great platform for knowledge-sharing and collaboration. For Dow specifically, one year before our Sadara facility start-up, Utech Europe provided a unique opportunity to set expectations for this world-scale production site – which validates the positive outlook we have for our business, our customers and for the polyurethanes industry."
Jeroen Hofman, Director of Product Management & Thermosets EMEA at Chromaflo Technologies found the event ideal for introducing its products to the European market: "Utech Europe is a key event for Chromaflo Technologies. Being relatively young in the European polyurethanes market, it is an excellent platform for presenting our pigment pastes for polyurethanes and plasticizer based products to the European polyurethane market. The event was very successful for us as we obtained many new leads from all over Europe and beyond. It was a well-organized event and a great opportunity to directly engage with prospective customers and other professionals in the industry."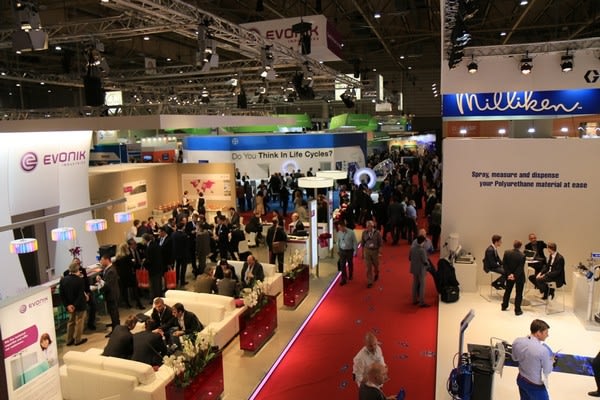 Mr. Ola Forsberg, Industry Group Manager Foam Papers of Mondi was another who commented on the truly international mix of attendees: "The event gave us an excellent platform to promote our new OLMO MaxFilm to existing and potential customers from all over the world. We were impressed by the internationality of the exhibitors and visitors."
James Paul, Market Manager, EMEA at Air Products was among many who felt that the event's ability to attract key players from across the industry was fundamental to its success: "Utech is a very important show within the polyurethane industry, providing Air Products the opportunity to promote our range of catalyst and surfactants to key industry players. We had a busy schedule with our on-stand and external meeting rooms fully occupied throughout the three days, with fruitful conversations taking place with both new and existing customers from across the globe. We're pleased we chose Utech to launch our latest trimerisation catalyst, Dabco TMR-12, a new product designed specifically for insulation panels & boards, as it offered the perfect audience."
Charlotta Fellman, Vice President Marketing, Perstorp concludes: "Utech Europe is an important event for Perstorp to show our commitment to the polyurethanes industry and meet our customers. This year at Utech Europe we celebrated the Capa 40 years anniversary to underline our commitment to our customers. And we also presented our new Capa Lactides 8000-series with clear advantages and a sustainable profile to be proud of. We saw great interest in our news to the market and had a lot of promising conversations so we are pleased with the results of our attendance."
The next Utech Europe event will be held in 2018. The next Crain Communications show in the global polyurethanes calendar is PU China in Guangzhou, China 31 August to 2 September 2015. The Utech North America exhibition and conference returns to Charlotte, North Carolina, United States on 6 & 7 April 2016.