Utech Europe 2015

The Leading International Exhibition & Conference for the Global Polyurethanes Industry
Date:
Location:
Maastricht,

Netherlands

,


MECC Maastricht, Forum 100, 6229 GV Maastricht NL, Postbus 1630 6201 BP Maastricht NL
Phone:

+44 208 253 9643

www:

e-mail:

vcazorla@crain.com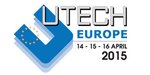 Utech Europe 2015 will once again be held at the MECC in Maastricht and is the leading international event for the polyurethanes industry. Utech 2012 attracted just over 3,500 decision makers from 86 countries. The 2015 event, comprising a strategic conference and international exhibition will be bigger and busier than ever.
Previous editions