With a wealth of injection moulding experience and automation expertise, Engel Austria develops highly cost-effective production concepts for the manufacture of composite parts in very large quantities. At JEC World 2019 from 12th to 14th March in Paris, France, the machine manufacturer and system solutions provider will be presenting a broad range of technologies based on examples from the automotive industry, from the processing of organic sheets and unidirectional tapes to in-situ polymerisation, HP-RTM and flow moulding with SMC.
Engel organomelt in automotive high-volume production
In the Engel organomelt process, thermoplastic fibre composite prepregs such as organic sheets and unidirectional tapes are formed and functionalised. For example, reinforcing ribs or assembly elements can be over-moulded immediately after thermoforming using a thermoplastic from the matrix material group. This not only enables a highly efficient and fully automated manufacturing process, but also contributes to the circular economy. "The consistent thermoplastic approach facilitates subsequent component recycling," says Christian Wolfsberger, Business Development Manager Composite Technologies at Engel's headquarters in Schwertberg, Austria, explaining one of the reasons why Engel organomelt is seeing constantly rising demand. Engel will be demonstrating the potential of this techno-logy during the three days of the trade fair using sample parts. In the USA, demanding structural components are already being mass-produced. Thanks to a high proportion of organic sheets, these components are characterized by particularly low weight and very good crash properties. Engel supplied a duo injection moulding machine, several easix articulated robots for preparing large quantities of metal inserts and handling the organic sheet, a viper linear robot and an Engel IR oven as an integrated systems solution for the automated high volume production.
Engel organomelt technology is suitable for both organic sheets and unidirectional glass and/or carbon fibre reinforced tapes with a thermoplastic matrix. "Tapes make it possible to reinforce the individual areas in the component in order to adapt them even more specifically to the load," says Wolfsberger. "In the future, we will be able to combine tapes of different thicknesses and also organic sheets and tapes in order to optimally leverage the potential for lightweight design."
To increase efficiency, the fibre stacks can be laid and consolidated inline and in the injection moulding process cycle. Engel offers fully integrated system solutions from a single source here. In addition to moulding machines, robots and IR ovens, pick-and-place tape stacking units with optical image processing from the in-house development and design department are used. Together with its partner Fill (Gurten, Austria), Engel  has recently expanded its range to include a consolidation unit for fibre stacks with different wall thicknesses.

In-situ polymerisation and injection moulding in a one-shot process
In-situ polymerisation of ε-Caprolactam into fibre-plastic composite support structures and their functionalisation in injection moulding is another thermoplastic composite technology which Engel has developed in collaboration with system partners. In the Engel v-duo vertical machine, the reactive and injection moulding processes take place in parallel. Thanks to the low viscosity of the melted ε-Caprolactam, preformed, dry reinforcing textiles can be wetted particularly well, resulting in a highly resilient bond when polymerised to polyamide 6. This is functionalised in a second cavity of the mould by over-moulding reinforcing ribs and contours made of fibre-reinforced PA 6. Engel is the first supplier on the market to rely on the ability to melt and process the solid monomer as required in in-situ polymeri-sation. The advantages of this are significantly reduced thermal load, and therefore higher product quality.
"We developed the v-duo series, which is available both with and without an injection unit, specifically for fibre composite applications," says Christian Wolfsberger. "It is characterized by a particularly compact design." The low operating height simplifies manual work. At the same time, the v-duo enables highly efficient automation solutions, thus accelerating the industrialisation of newly developed processing methods.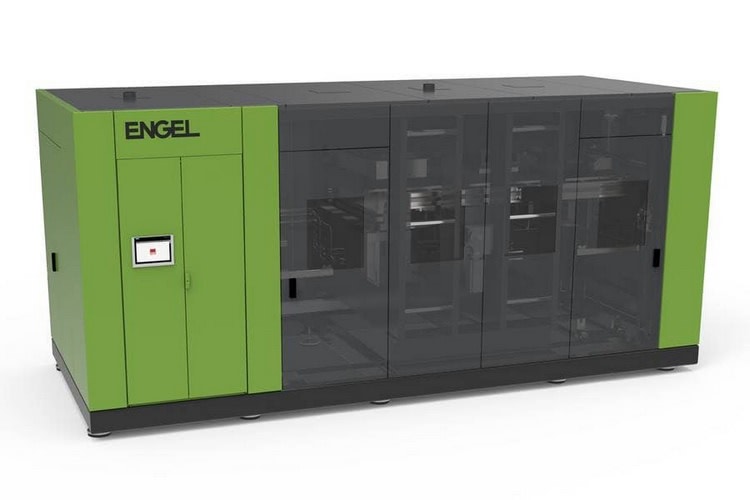 The new consolidation unit for processing unidirectional types can be easily integrated into the overall process, which significantly increases efficiency in the production of tailor-made tape solutions.