HP-RTM and SMC: More efficiency for duromer systems
At JEC World 2019, Engel will be using two examples from the field of lightweight thermoset design to demonstrate that production efficiency can still be improved - even for long-established technologies. One topic at the stand will be the CRP rear panels of the Audi A8. These large-scale components with a complex carbon fibre structure and local reinforcements are produced by Voith in Garching, Germany, on an Engel v-duo 1700 machine using the fully automated HP-RTM process.
Engel will also be presenting gear carriers based on SMC (Sheet Moulding Compounds). In a development project, Engel, together with the Institute for Polymer Product Engineering IPPE at Johannes Kepler University in Linz, Austria, as well as Hexcel (Stamford, CT, USA) and Alpex (Mils, Austria), have developed a new production process based on flow moulding for these dynamically highly stressed vehicle components. The starting material is a flat carbon prepreg with fibre lengths of 50 mm and a matrix of epoxy resin. Analysis of the first components shows significant weight savings and improved component properties compared to the original aluminium component.
From sophisticated visible and outer skin parts to structural components with integrated functionality, flow moulding with SMC is used for a wide range of fibre composite components. In short cycles, complex geometries and paintable surface quality can be achieved. With its powerful measuring and control technology, flexible compression moulding process and integrated parallelism control, the Engel v-duo machine is predestined for SMC processing. The processing parameters can be specifically adapted to the component requirements in order to achieve an even higher component quality.
All future-oriented technologies at a glance
Engel's lightweight construction experts cover a broad development spectrum from the processing of thermoplastic prepregs and thermoset moulding compounds to reactive technologies. As an injection moulding machine manufacturer with great expertise in automation and system solutions, ENGEL provides important factors for the successful economical fabrication of FRP components in large batch numbers, and therefore established in 2012 its own centre for the interdisciplinary development of new composites processing technologies. Together with its customers and development partners from industry and universities, the Engel Centre for Composite Technologies has already set several milestones for the international lightweight construction industry over the past few years.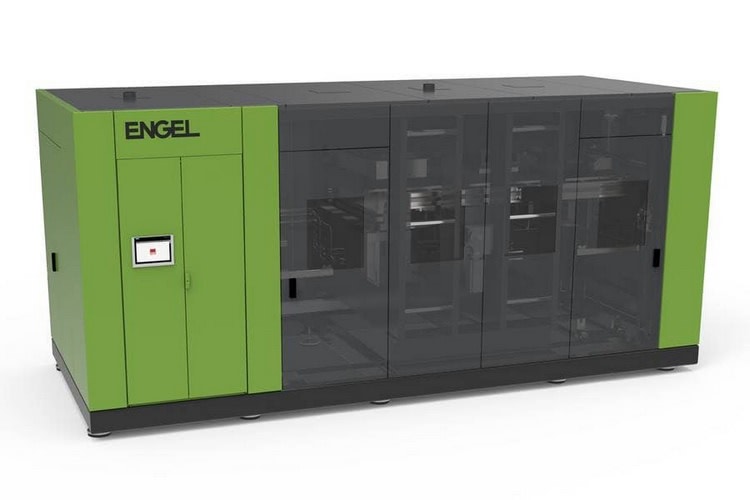 In the form of the v-duo, ENGEL has developed a machine series specifically for fibre composite applications.