Encapsulated drives and spindles and the oil-recovery system at the toggle lever guarantee further positive side effects: noise reduction, friction reduction and a harmonious sequence of movements. On the injection unit side, a dynamic injection drive with adjustment times in the millisecond range support injection speeds of up to 500 mm/s and injection pressures of up to 2800 bar. Again, encapsulated ball-thread spindles that run in an oil bath (low consumption, leak-free) with a high level of efficiency and encapsulated toothed belts offer best-of-class conditions for controlled production. The ENGEL e-motion medical series in particular combines best-of-class performance and cleanliness. It is available as a continuous series with up to 500 tonnes clamping force.
In the tie-bar-less field, ENGEL is exhibiting the new ENGEL victory 160 – complete with ecodrive. The victory 160 replaces the 150 tonne size and offers more space and flexibility in this clamping force segment. Equipped with Flex-Link including an integrated force divider as a factory standard (this is a patented system for high-precision platen parallelism and minimal wear and tear on moulds), the machine has an exciting, modern design and supports FEM (Finite Element Method) optimisation. FEM-optimised parts keep accelerated masses as low as possible.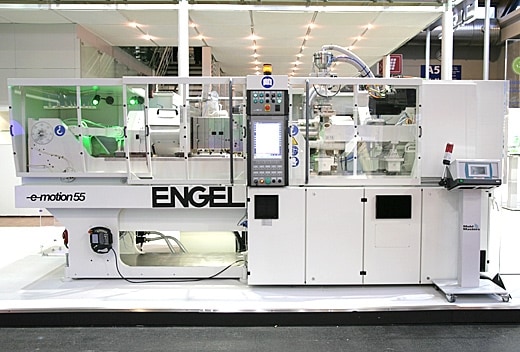 Besides greatly reduced dry cycle times, this also means considerable energy savings. On top of this, the victory 160 is the first fully-hydraulic injection moulding machine with the servohydraulic ecodrive. At Fakuma, the machine will be demonstrating the production of a shut-off weight for cisterns on a 2-fold mould by Büchler Werkzeugbau AG from Flawil/CH. The PP part is injection moulded in a cycle time of approx. 18 s and demoulded by an ENGEL ERC 23.
The ENGEL speed 180/55 machine on show here, with a clamping force of 1,800 kN, will be producing polystyrene (143 E) airline cups which are decorated using the in-mould labelling (IML) method. With a cycle time of approx. 3.5 seconds, the machine achieves an output of just over 4000 cups per hour. The 4-cavity mould was produced by Glaroform AG, Näfels/Switzerland, and the fast take-off automation by Beck Automation, Oberengstringen/Switzerland.
Besides injection moulding systems, Engel will also be presenting the new Engel viper robot generation – in an attractive stand-alone presentation. Maximum stability and optimum acceleration are the characteristics of the viper generation of robots. Vibration control software prevents structure-borne oscillations and the modern drive system guarantees best-of-class dynamics on a compact footprint. The Engel viper robot generation is a crucial step towards bolstering Engel's system competency; the viper 40 will be the first model to become available. Models 20 and 60 will become available early in 2010.
All told, this year's Fakuma gives engel a perfect backdrop to demonstrate high-performance energy optimisation and improved efficiency: four innovative exhibits, sustainable use of resources, and best-of-class performance are perfect proof.