The use of energy-saving machines and energy saving systems is still in the injection moulder's focus. And this makes it all the more important for the machine manufacturer to face these challenges and offer innovative and sustainable energy-efficient solutions for injection moulders. With a motto of "Driving you eco" Engel is exhibiting at Fakuma 2009 in Friedrichshafen from 13th to 17th October.
Energy optimised, powerful machine designs are the focus of this trade fair presentation. Besides an Engel speed with In-mould Labelling, 2 new models will be on show, a fully electric Engel e-motion 100 T for clean room applications, and an Engel victory 160 ecodrive. And: the "small large-scale machine series" Engel duo pico – complete with ecodrive.
Sustainable, energy-efficient, but powerful. Intelligent technological solutions from Engel effectively combine this requirement for modern injection moulding machine design. At this year's Fakuma in Friedrichshafen Engel will be presenting the latest developments in the field of energy efficiency. New systems, an energy-optimised design, or the new Engel ecograph analysis tool all go to show that Engel is not resting on its laurels in our economically challenging times, but pushing development ahead at full speed and thus offering its customers the best possible conditions for a successful market presence. And recent developments clearly show that this is the right approach. Because Engel is the among the leaders in energy efficiency. The four exhibits at Fakuma are perfect proof: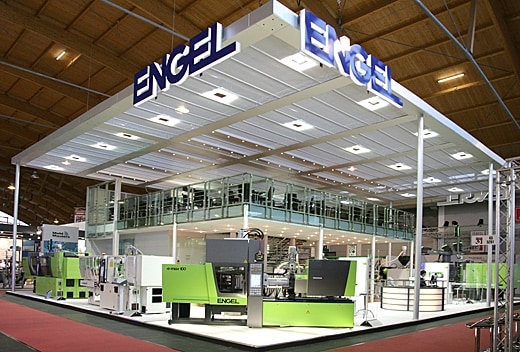 One of the absolute highlights at Fakuma is the new Engel duo pico – equipped with the energy-saving ecodrive system including speed controlled pumps. The variable drive motor speed helps to achieve the perfect operating point for each movement. The machine is additionally equipped with a plasticising drive. The hydraulic drive is disabled during plasticising. Compared with our main competitors, an Engel duo pico uses 25 percent less energy. And the ecodrive option means substantial energy savings on top. From an energy-technology point of view, this design is easily in the same range as a fully electric machine.
At Fakuma, Engel will be showing a duo 3550/500 pico ecodrive. The machine will be producing a 1+1-fold PA mirror housing for the automotive industry using a mould with cooling by Stemke that uses a refrigerant as its cooling medium. Cycle times can be reduced by up to 30% by cooling the mould at exactly those places that a legacy water cooling system cannot access. The robot used here is an Engel ERC 33.
In medical technology, Engel is once again demonstrating its system solution competence by presenting a fully-integrated application for the manufacturing of PP pipette tips on the new Engel e-motion 310/100 T. In a cycle time of just 6 seconds, the parts are injected, monitored by cameras, and deposited on racks sorted by cavity.
The mould is by Tanner Formenbau AG from Feuerthalen/Switzerland; automation by Waldorf-Technik from Engen/Germany. Modern, electric machines offer many advantages for production in the field of medical technology. They are particularly powerful and offer a dry cycle of less than one second. The tie-bars are lubrication-free and the plate contacts are generously dimensioned. An oil return system on the toggle lever prevents contamination by operating resources. Encapsulated clamping drives with a closed lubricating system for the ball-thread spindle mean that the visual appearance remains perfect. An emotional component that plays a significant role in establishing trust in the machine's clean room capabilities.