One of ENGEL's exhibits in the Teletronics field was feature first showing of the newly developed ENGEL e-insert – an electrified version of the ENGEL insert machine with a servoelectric rotary table and a fully electric injection unit – the clamping process and ejection use the new ENGEL ecodrive servohydraulics.
An ENGEL e-insert 310V/100 was producing a sensor housing made of fibreglass reinforced PA with metal inserts for control electronics on a 4-cavity mould. The process involves over-moulding of insert parts with maximum precision by the electrical injection unit and maximum rotation speeds with maximum positioning accuracy of the servo-electrically driven rotary table. This concept reduces the cycle time and both improves cost-efficiency, and ensures considerable energy savings thanks to electrification, in the production of high-precision moulded parts. Automation is handled by an ENGEL viper 20.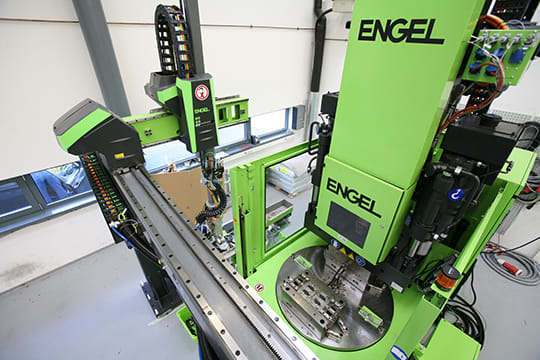 Another ENGEL highlight is the production of a leadframe from a modified PA on a fully electric ENGEL e-max 200/100. The lead frames are manufactured in a 64-cavity mould. A stamped metal strip is pulled from a roll, cycled through the mould by a feed unit and rolled up again after overmoulding. The particular advantage of the ENGEL e-max for this procedure lies in the low space requirement of the cell concept due to the use of a standarad electric machine, combined with fast and precise injection by the fully electric injection unit.
Two further innovations were showed for the Packaging field. The new, fully electric ENGEL e-cap series successfully delivers the market requirements in cap production with respect to short cycle times, a high level of flexibility and low energy consumption. Fully electric and with a cycle time of less than three seconds. Compared to all the other machines on the market, the e-cap has by far the lowest energy consumption. This is made possible by a new premium quality injection unit, increased ejector force and a reinforced clamping drive.
At the K Fair, ENGEL was exhibiting an ENGEL e-cap 3940/420 T featuring a 96-cavity mould by Schöttli / Switzerland for the production of HDPE caps with a cycle time of 2,7 seconds. In addition, quality control is integrated in the form of a Q-Vision system.
An ENGEL e-motion 740H/440M/280 T cube technology was demonstrating the manufacture of a tube including a PP cap with a 4-cavity mould. Production relies on a rotary cube and a second travelling unit on the moving mould fixing platen.
The tubes are produced in the first cycle and the cap injected in the second – in a single step. The machine displayed at the trade fair also features an in-mould labelling system. ENGEL is unveiling this production system, which manufactures a complete, decorated tube with closure on a fully electric injection moulding machine, as an absolute world first.