In line with our slogan, "Inject the Future - efficient. reliable. innovative." ENGEL have exhibited seminal technologies and innovations from industry-specific applications at the K trade fair 2010 in Düsseldorf, Germany. On a floor space of 1,272 qm2, ENGEL was showing eleven exhibits that clearly demonstrate its industry competence in the Automotive, Technical Moulding, Packaging, Teletronics and Medical fields.
The use of energy saving systems in particular was the highlight of ENGEL's presentation at K 2010 in Düsseldorf this year. ENGEL have once again demonstrated its reliability as a partner with efficient technology and innovative solutions for our customers. There was a total of 20 ENGEL machines on show at the fair.
All told, the K Fair again hosts an impressive demonstration of performance centering on ENGEL's system competence in injection moulding machine manufacturing. And this is true for all branches of industry.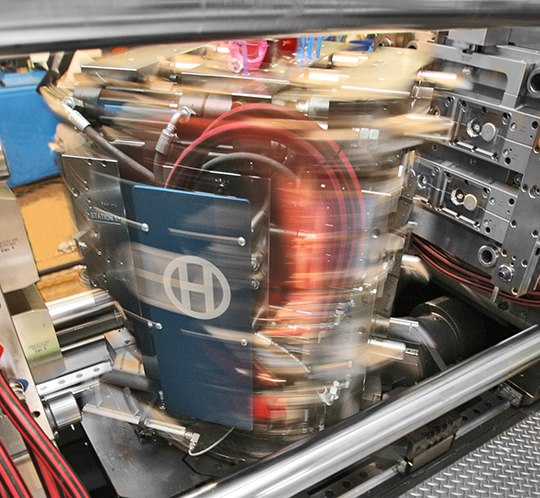 In the Automotive field, for example, the manufacturing of an injection moulded structured component, reinforced with organic sheet, was showed on on an ENGEL duo 2050/500 pico. ENGEL was demonstrating this method by producing a steering column made of PA in a complete manufacturing cell featuring sophisticated automation with three robots. This application revolutionises lightweight design in particular as it allows steel and aluminium sheets to be replaced by thin organic sheets.
They comprise a special fabric of glass or carbon fibres embedded in defined orientation in a thermoplastic matrix of PA or PP. Companys project partners for this exhibit are Siebenwurst/Germany for mould making, and Bond Laminates/Germany as the material supplier.
On top of this, ENGEL was also demonstrating flow-coating of an injected part with polyurethane on a fully electric ENGEL e-motion 280 T using the ENGEL clearmelt process.
This involves back injecting a wood design foil with a thermoplastic carrier and then covering the part with a transparent layer of PUR. The process is characterised in particular by a visually impressive 3D effect and excellent scratch resilience. Compared to legacy approaches – such as multiple layer coating – excellent productivity and thin layer thickness are the major benefits. The advantage of the clearmelt process is that both back injection of the decor foil and flow-coating with PU occur in a single mould without interrupting the process. Fully automated insert placing, take-off and stacking of the manufactured parts is handled by an ENGEL viper 40.
In addition to this, processing of solid silicon to create gaskets was demonstrated on an ENGEL victory 330/90 tech. Production of the parts with a diameter of approx. 6 mm is fully automatic and post-processing free using a 64-cavity mould including cold runner technology. The machine is also equipped with the new ENGEL roto feeder. This new rotary conveyor ensures maximum process stability by feeding the material continuously to the plasticising cylinder, avoiding inclusions and maintaining constant pressure.