The Autopen 2 from Owen Mumford includes several functional components made of DuPont Delrin acetal resin that are fundamental to its use for the effortless and accurate delivery of insulin to diabetes patients.
The range of high performance polymers available from DuPont for use in medical devices, including the next generation of drug delivery systems, forms the focal point of the company's exhibit at Pharmapack 2011 in Paris. Their use enables the design and manufacture of highly-accurate, reliable, durable and convenient products, as illustrated by the recent launch of the Autopen 1 2 insulin delivery device from Owen Mumford (Woodstock, England). The Autopen 2 includes several functional components made of DuPont Delrin acetal resin that are fundamental to its use for the effortless and accurate delivery of insulin to diabetes patients.
Introduced during 2010, the Autopen 2 constitutes a new generation of reusable pen injectors launched by Owen Mumford under the Autopen trademark that benefit from an automatic delivery system providing greater patient comfort and control. Enhancements of the Autopen 2 include its ability to deliver up to 72 units of insulin and the opportunity for the user to correct the dose if it has been over dialed.
The mechanism behind the simple and reliable automatic delivery system relies on a range of Delrin products, including toughened, lubricated and laser markable grades, for many key components. Required properties of the DuPont acetal resins include their unique combination of strength and stiffness, dimensional stability, fatigue resistance, low coefficient of friction and resistance to wear when used in intricate, geometrically advanced parts required to withstand comparatively high loads, torque forces and the incorporation of snap fits. The Delrin products were supplied to Owen Mumford by Distrupol, DuPont's authorised distributor of its performance polymers in the UK.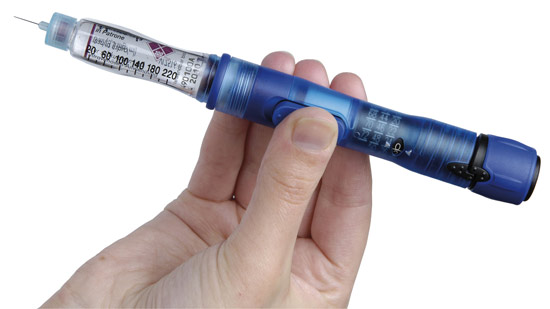 "Of all the plastic parts used within the Autopen 2, seven are moulded from Delrin and they represent all of the mechanical and robust components fundamental to its operation," confirms Mark Eaton, product designer at Owen Mumford. "We would not have been able to produce the Autopen 2 without DuPont materials." Rigorous and comprehensive testing confirmed the compliance of Autopen 2 with the international standard ISO 11608 for pen-injectors.
DuPont: the material supplier of choice to the health care segment
DuPont offers one of the broadest portfolios of engineering plastics and thermoplastic elastomers for medical devices, surgical devices and for diagnostic or pharmaceutical manufacturing equipment. They offer benefits including structural properties with lower material density and ease of forming geometrically complicated parts. In addition, minimal finishing operations, rapid production cycles, and longer life with enhanced durability all contribute to cost savings. The DuPont health care product offering provides food agency compliance (EMSA and FDA), ISO 10993-5 and -11 compliance as well as USP Class VI compliance. Speciality health care products are manufactured following GMP. Beyond material supply, DuPont actively supports customers with assistance in material selection, tool design and moulding optimization
The DuPont Performance Polymers business manufactures and sells Crastin PBT and Rynite PET thermoplastic polyester resins, Delrin acetal resins, Hytrel thermoplastic polyester elastomers, DuPont ETPV engineering thermoplastic vulcanizates, Minlon mineral reinforced nylon resins, Neoprene polychloroprene, Tynex filaments, Vespel parts and shapes, Sorona EP, Kalrez perfluoroelastomer parts, Vamac ethylene acrylic elastomers (AEM), Viton fluoroelastomers, Viton FreeFlow processing aids, Zytel nylon resins, Zytel PLUS nylon resins and Zytel® HTN high-performance polyamides. These products serve global markets in the aerospace, appliance, automotive, consumer, electrical, electronic, healthcare, industrial, sporting goods and many other diversified industries.