Daimler's Smart car business and materials supplier BASF have previewed the Forvision electric drive concept car, ahead of the full press launch later this month at the IAA 2011 automotive industry fair in Frankfurt.
BASF has been working with Smart engineers for the past two years as "exclusive development partner" for the Forvision concept car. The electric drive car makes extensive use of BASF plastics and other materials, which have lightened the overall design and increased the car's range to around 170km – from the 140km achieved with Smart's latest third generation electric drive Smart car that goes on sale in 2012.
The Forvision's traditional Tridion safety cell is now intended to be made by fast curing BASF Baxxodur epoxide resin based carbon fibre reinforced plastic (CFRP), instead of metal. CFRP is also used, with support from its faceted shape, to lighten and strengthen the slim Forvision door.
BASF's president of polymer research, Dr Christian Fischer, said the door panels could use high performance plastic foam integrated within aluminium foil clad vacuum insulated panels (VIPs). This cuts insulation thickness from 7cm to 1cm for the same insulation value.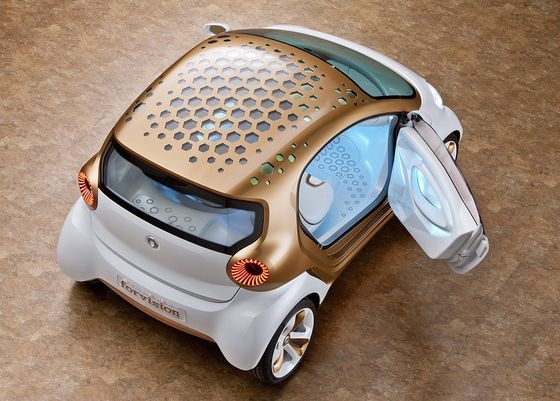 The car's wheel rims are to be made of two injection moulded parts that have already been produced by Hummel Formen in Lenningen in BASF's Ultramid Structure 50% long glass fibre reinforced PA6. BASF claims the plastic rims are the first of their kind to be capable of use in full serial production cars. They also lower weight by 3kg per wheel – or 12kg for the whole car.
BASF also developed and supplied transparent photovoltaic solar cells based on organic dyestuffs absorbed onto titanium dioxide. The cells are placed within recesses in the roof of the car, to transmit daylight to the interior and to generate electricity for the radio, rear mounted cooling fans and multimedia equipment. The company's Steron electric heating fabric, polyurethane foam and "organic sheet" selectively reinforced seat shell solutions are used in the design of the self-supporting Forvision seats.
Neither Smart nor BASF specified what types of plastic will be used for the bonnet, fenders and rear cladding, but Smart will no longer use through-coloured injection moulded plastic for these Forvision parts (in previous designs initially PC/PBT, now PP) for one clear reason – thermal management, so the range of the electric vehicle is kept to the maximum. This is due to the use of effect paint incorporating infrared reflecting pigments that cannot function within through-coloured panels. These are of course most effective with dark colours rather than the white bodywork on the first model shown at the preview.
At the front of the car, the traditional radiator grille structure has been replaced by hexagonal (honeycomb) shaped holes integrated within the bonnet body panel itself, as part of the overall thermal management system. The hexagonal structure appears all over the car, from the roof, through to the interior cladding and seat cover surface structures.