Krones AG, Neutraubling, Germany, has come up with an ultra-compact single-end bottle washer designed specifically for the small and medium output ranges.
Thanks to its minimised dimensions, the Lavatec E2 can be installed without any problems even on small areas, and nonetheless provides perfect cleaning results, since it carries the bottles through the machine in a horizontal loop for maximum caustic dwell time. The machine will subsequently be installed at the mid-tier Orth brewery in Sulzbach-Rosenberg, which is also taking delivery of a Kosme filler rated at 6,000 containers an hour.
In the Lavatec E2, after leaving the pre-cleaning zone, the containers are passed through the caustic immersion bath in a horizontal loop path. A multitude of rotary jetting tubes are used to clean the inside of the bottle from different angles of incidence. The outside of the bottles is cleaned from above by large-volume jetting units. In the post-caustic tank, the newly developed double nozzles additionally clean the bottles from below, accurately targeting the shoulder area of the bottles for an enhanced cleaning effect. Before they leave the machine again, they are cooled down in the post-treatment zones with a small quantity of fresh water, and the final residues of dirt and caustic are thus removed.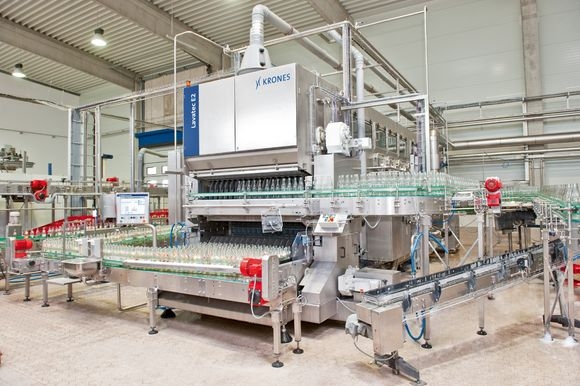 In order to make optimum use of the space available, the bottle washer can be supplied in different model widths. The combination of purposefully developed new ideas and field-proven components from the "big" Lavatec means the Lavatec E2 bottle washer is an up-to-the-future solution in Krones' traditionally sturdy, durable construction for the small and medium output ranges.
The Lavatec E2 can also be supplied as a clean design option, with concomitantly hygienic housing and pipe configurations, an open bottle slide, and an easily accessible discharge for fast, intensive cleaning.