From 24 to 27 May, Arburg will present an automated solution for efficient injection moulding at the 2011 International Engineering Fair (IEF) in Nitra.
The company will present a hydraulic Allrounder 570 C Golden Edition will be equipped with a Multilift Select robotic system for this purpose. This machine combines high-quality standard equipment with an attractive price/performance ratio. As an example, it will demonstrate the cost-efficient production of stacking boxes.
"The trend towards ever smaller unit volumes combined with increasingly complex manufacturing requirements results in a demand for highly flexible solutions. Arburg offers modular and efficient machine technology with which plastics processors can produce fast, cost-effectively and in high quality," says Jaroslav Novak, Manager of the Arburg subsidiary in the Czech Republic and Slovakia: "By ensuring that our machine technology, robotic and control systems are perfectly co-ordinated, considerable cycle time savings can be achieved.
" As a low-cost entry-level solution for automated production, Arburg offers hydraulic injection moulding machines from the Golden Edition series in conjunction with the Multilift Select robotic system, for example.
At the trade fair, an Allrounder 570 C Golden Edition with a clamping force of 2,000 kN will produce stacking boxes weighing 259 grams. The exhibition machine is equipped with a size 800 injection unit and single-cavity mould; the cycle time is 35 seconds. The Multilift Select robotic system enters the mould vertically, removes the boxes and deposits them on a conveyor belt.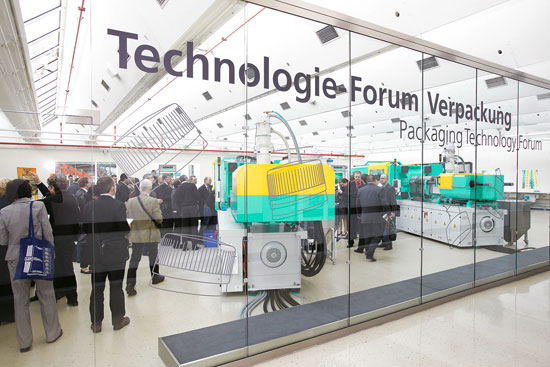 All six Allrounder Golden Edition machine sizes, with clamping forces ranging from 400 to 3,000 kN, feature fixed clamping force/injection unit combinations. Their technically high-quality components include highly wear-resistant plasticising cylinders for a long service life, and fast-switching valve technology for high control precision and therefore high moulded part quality. Furthermore, dual-pump technology permits simultaneous machine movements and the associated short cycle times. Arburg offers the Golden Edition machines with this standard equipment at an attractive price/performance ratio. Like all Allrounder machines, they are produced exclusively at the parent factory in Lossburg – with the mark of quality "made by Arburg – made in Germany"
The Multilift Select is available with load-bearing capacities of 6, 15 and now also 25 kg. All three standard systems feature servo-electric drive axes and are fully integrated in the Selogica machine control system. For the user, this means only one data record, no re-thinking required of operators during programming and perfect synchronisation of robot and machine.
In order to remove and set down parts with absolute precision, the Multilift Select can be programmed via the Selogica's teach-in function, i.e. it "learns" the positions to be moved to by means of manually executed steps. This effectively shortens programming times and changeover routines, the handling sequence is more reliable overall and much less time is spent on training. As the control system is not located in the control cabinet, but directly on the robotic system, a Multilift Select can also be retrofitted on existing systems.
As a reliable system supplier, Arburg designs and implements complete production systems all over the world. On-site project experts efficiently adapt the injection moulding machines, as well as all the automation and peripherals, precisely in line with specific customer requirements. The range of robotic systems extends from simple sprue-removal solutions through to complex six-axis robotic systems for handling high-precision parts.