Addiplast Group, founded in 1986, now, has 2 production sites: Addiplast & Addikem in Saint Pal de Mons in France, equipped with twin-screw extruders and Buss co-mixers. Both sites are certified IATF 16949 and ISO 14001 and have a production capacity of 30 000 tonnes.
The group has been developing and manufacturing natural fibers reinforced compounds on an industrial scale for more than 10 years. Today, the Addibio Renew range meets the most demanding specifications for the automotive, cosmetics, construction, packaging and consumer goods markets. This range complements its traditional lines of products Addilene (polyolefins), Addinyl (polyamides), Additer (styrenics and polyesters), Addiflam (flame retardant), Additec (ESD, semi-conductor), Addiperf (masterbatches for engineering plastics) and Addibatch (masterbatches for polyolefins)
Most of the European natural fibers that do not compete with human and animal food resources have been characterized at the Addiscience research center. Each type of used fiber makes it possible to meet the needs expressed by customers for the production of appearance and structural parts (miscanthus, wood fibers, vine tendrils, flax, reed, cellulose, etc).
The used polymer matrices are dictated by the characteristics and intended uses of the plastic part. This diagram summarizes the range of possibilities: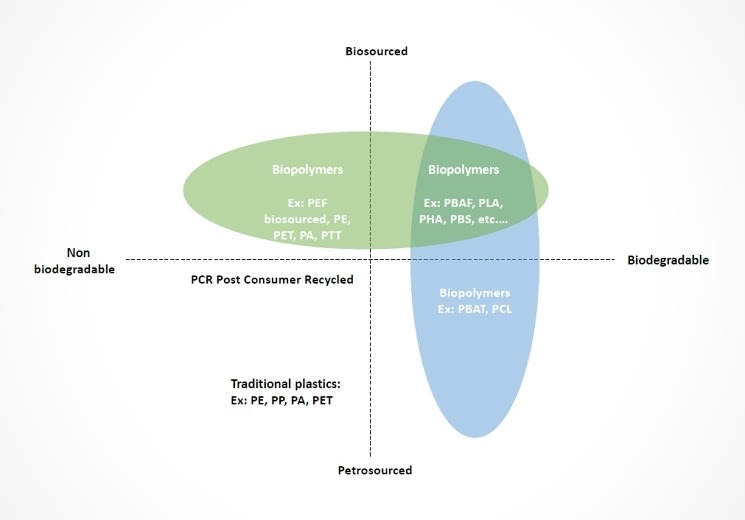 That includes polyolefins (PE, PP), biopolymers such as PA11, PA10-10, PLA, PHA, PBAT and others.
Addiplast Group is fully committed to the circular economy by now offering solutions integrating "PCR", Post-Consumer Recycled in the formulation of its natural fiber compounds. The compound developed this way makes it possible to meet the expectations of industrialists, who are themselves guided by the expectations of end consumers. Based on the market requirements, the natural fibers will have to be visible or not visible, biodegradable or sustainable materials.
A few application examples:
Addibio Renew GHI 52028 colored for the cosmetics market
It is a PP NF20 compound where pastel colors are possible. It meets the American FDA and European food standards. It meets the California 65 regulation. This compound is therefore particularly intended for primary packaging.
Addibio Renew GEI 52009 dyed in the mass for the automotive market
For 5 years this grade has been in series production for the manufacture of interior cabinetwork parts in vehicles. VOC, Fogging, Odor, scratch resistance etc... are the essential prerequisites in the automotive industry to claim to be used instead of the so-called "traditional" mineral filled copolymer polypropylene compounds (P/E MD10, 15 or 20). This reference meets these requirements. The other challenge was to formulate this compound in such a way that it could be injected into the same tooling as mineral filled PP.
Finally, the mass gain is important for this industry. The use of natural fibers fully contributes to this objective. This is why the Addibio Renew GJI 53116 black standard reference was developed this time for structural parts. Up to 20% lighter than PPMD40 or PPGF20 is possible.
Each brand, each company has its own strategy regarding the environmental approach of its products. The Addiplast Group's R&D, sales and marketing teams are listening daily to design the materials of tomorrow that are best suited to each strategy.