Scandinavian launch for new e-connect customer portal
The modularity of the inject 4.0 concept makes it easy for plastics processing firms to harness the opportunities presented by Industry 4.0. Even individual stand-alone solutions such as iQ assistance systems offer considerable benefits. In Jönköping, ENGEL will also present easy-to-implement solutions for networking machine parks and entire production sites as well as online support, remote maintenance and predictive maintenance products.
There will be a Scandinavian launch for ENGEL's e-connect customer platform at Elmia Polymer. Now comprehensively revised, the portal is ideally equipped to handle all current and future requirements of the smart factory. At any time and anywhere, it provides an overview of the machine status, the processing status of service and support orders and the prices and availability of spare parts. In this way, the portal simplifies and accelerates communications between processors and ENGEL as the supplier.
All service products in the inject 4.0 range have been integrated with e-connect, including the new e-connect.monitor for predictive maintenance. For the first time, e-connect.monitor makes it possible to monitor the condition of critical components in injection moulding machines during current operations, and calculate their residual life. The aim is to prevent unplanned system shutdowns and minimise downtimes in the case of planned work such as the installation of spare parts. Two modules of this solution have already been introduced to the market: one for plasticising screws and the other for spindles in electrical high-performance applications.
Very deep vertical data integration
At the Expert Corner for smart production on the ENGEL stand, the focus will be on the authentig MES from the ENGEL subsidiary T.I.G. Tailored to the specific requirements of the injection moulding industry, the manufacturing execution system offers particularly deep vertical data integration to the level of individual cavities. The software ensures transparency in order to, for example, utilise the total available capacity of a machine park or correlate productivity indicators and economic objectives. Thanks to its modular structure, authentig can be adapted to the precise individual needs of processors; as it is not dependent on a specific interface, injection moulding machines of different brands can be incorporated.
New injection units for even greater efficiency, precision and performance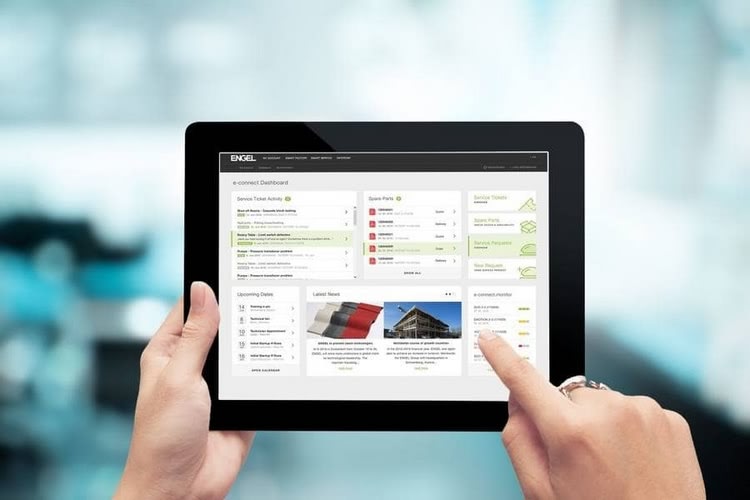 The fastest link to the world of ENGEL: ENGEL's e-connect customer portal is ideally equipped to meet the new demands of Industry 4.0.
The new injection units will enable the ENGEL victory and ENGEL duo injection moulding machines to achieve even more impressive performance, precision and efficiency. At Elmia Polymer, ENGEL will be presenting its new generation of hydraulic injection units at a Scandinavian trade fair for the first time.