A. Schulman, Inc. recently received four 2010 Society of Plastics Engineers (SPE) European automotive awards, including the highly prestigious Innovation Award for the seat belt microphone manufactured for Audi.The award-winning seat belt microphone for the Audi R8 Spyder allows drivers to make and receive clear and undisturbed hands-free cell phone calls while driving with the roof down.
The microphone can be placed at the best angle to ensure perfect reception, and it does not affect the safety performance of the seat belt. The microphone is made from A. Schulman's Polyman polycarbonate laser-welded compound and manufactured in Germany by Paragon Finesse and Takata Petri.
The awards were given recently at the 13th SPE Central Europe automotive awards.
The award-winning solutions were one of many attractions at A Schulman's "Passion for Plastics" trade show display, which also included new product information from across the four business units, the Company's global reach and local presence, and its ongoing commitment to collaborating with customers to create new value-added applications. The 4,700-square-foot display attracted more than 4,000 visitors and was staffed by approximately 70 associates during the weeklong event from late October to early November.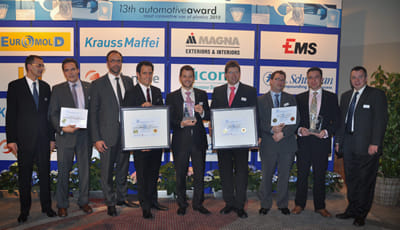 The recognition of these solutions by the Society of Plastics Engineers automotive awards and A. Schulman's customers at the K Show is a testament to the team's technology expertise, hard work and ability to partner with customers and suppliers. These award-winning solutions address some of the most important needs of the automotive industry: safety, weight reduction, energy efficiency and manufacturing efficiency.
In addition to the seat belt microphone, the other awards are as follows:
First place in the electronic parts category for a universal sign indicator component. The electrically conductive Schulatec TinCo plastic, which is 1,000 times more conductive than traditional competing materials, is injection-molded to create a ready-to-install indicator lamp. The part is manufactured by Hella Lighting Finland.
Third place in the exterior category for the hybrid sheet steel and plastic roof module frame, used on the VW Polo. Made of a glass fiber-reinforced Schuladur blend, the frame and the associated polycarbonate panel have low warpage and contribute to the low weight of the vehicle's roof system. Webasto AG is the molder of the product.
Third place in the interior category for the motor mechanism for a retractable sunshade for BMW. This metal replacement application achieves approximately a 35 percent weight reduction and eliminates the prior need for a second motor. The product is made of a blend of Schulamid and Schuladur engineered plastics, and produced by Weber GmbH & Co. KG Kunststofftechnik.