Faster, higher, further with the right material
These properties can be obtained with Vestamid E polyamide 12 elastomers. As block copolymers comprising both hard polyamide 12 segments and soft polyether segments, they combine stability with flexibility. The polyamide 12 segments ensure dimensional stability, impact strength, and notched impact strength even in cold weather, as well as high resistance to chemicals. The polyether segments ensure good elastic recovery, so that shoe soles absorb impact well and protect the ankles. In consultation with plastics processors, producers of sports goods, and sportspersons, this base material is tailored to the requirements of individual sports, by, for example, modifications from hard to soft. The specific hardness is individually adjusted not, as in the case of conventional plastics, by means of plasticizers, but by altering the ratio of ether to polyamide groups. This explains why golfers, sprinters, cyclists, and winter sports enthusiasts as well as soccer, basketball, and rugby players appreciate having PEBA under their feet. Producers also demand consistent working properties and a range of design options.
At the same time as the first application fields were opening up in the sports industry, the thermoplastic material found use in the automotive industry as a material for pressure hoses, in the inner tube as well as the outer cover. To this day, PA 12 elastomers are particularly distinguished by very good impact resistance at low temperatures, in both the wet and dry states.
New PA 12 elastomers for medical technology
Flexible plastics that also meet high quality standards are now used in demanding applications in medical technology and other fields. Over the years, Evonik's experts have developed and optimized flexible polyamide 12 elastomers with a wide range of hardnesses for application in medical technology; these have been successfully launched on the market under the product name Vestamid Care ME.
In medical technology, selection of the right material is key: The materials must meet the highest quality standards, be biocompatible, be resistant to aggressive chemicals and pharmaceuticals, and satisfy high demands in respect of, for example, mechanical properties, even after sterilization. Not least, high-performance materials for medical use must have outstanding processing properties to allow, for example, filigree geometries for minimally invasive devices or very accurately dimensioned connecting elements.
Due to their high flexibility and good processability, Vestamid Care ME grades have been used for years in various parts of catheters - from the flexible distal end of low elastic modulus to allow non-traumatic insertion, to the proximal end, near surgeon's hand where a higher modulus is necessary to transmit force and torque.
The Vestamid Care ME plastic grades have been further developed into the Care ME-B series for improvement and simplification of the production process of multi-layer catheters from EFEP and PEBA. These catheters combine the advantages of the flexibility and mechanical resilience of PEBA with the good slip properties of EFEP. The polyether block amides of the Vestamid Care ME-B series also cover a wide range of flexibility and hardness. They have been specifically developed to adhere well to Daikin's Neoflon EFEP RP-5000 without the need for adhesives or other compatibilizers. The chemical nature of the two materials leads on coextrusion leads to the formation of covalent bonds at the interface between Vestamid Care ME-B and Neoflon EFEP.
The combination of modified PEBA and EFEP offers greater freedom of design with no loss of biocompatibility, because there is no need to use adhesive layers or other low-molecular additives.
A wide product range that encourages lateral thinking 
With its innovative PEBA molding compounds and Care grades for the medical field Evonik offers a wide product range of polyamide 12 elastomers. This means that new customer projects can be realized faster; in addition, plastics experts can offer customized solutions across individual markets. On this basis a Vestamid Care ME grade has found application in the optical industry: In the example of light, colorful, and totally safe children's eyeglasses Evonik shows its technical expertise in polymer design.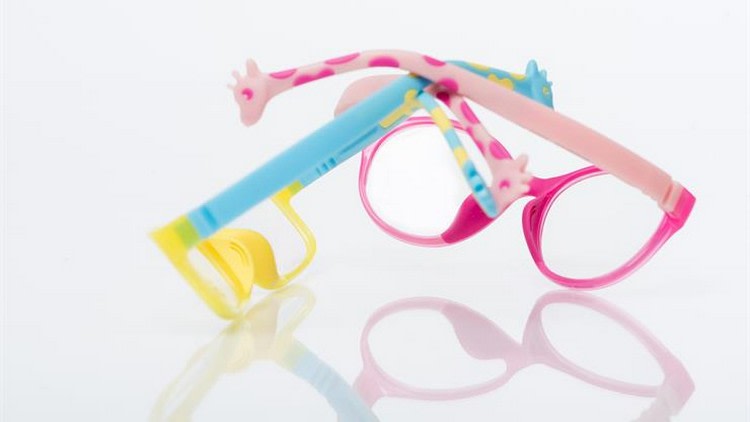 In the example of light, colorful, and totally safe children's eyeglasses Evonik shows its technical expertise in polymer design. A sophisticated combination of materials offers unlimited freedom of design without compromising health and safety.
A clever combination of materials offers unlimited freedom of design without compromising health and safety. The inner frame and nose pads of the children's eyeglasses have been designed in Vestamid Care ME 26, a polyether block amide, which by its low weight and particularly gentle haptics ensures the maximum of comfort for the wearer. ''In selecting the material we switched over to a medical product grade because we also wanted to give the inner frame anti-injury and anti-slip properties, which are particularly important for children's eyeglasses. Moreover, the use of a medically approved product grade rules out the likelihood of skin irritations and other allergic reactions of sensitive young skin,'' says Eric Chen, General Manager of Hwa Mao Optical (Xiamen), a Chinese manufacturer of eyeglasses.
Vestamid Care ME 62 was the material of choice for the temple elements. The high-performance plastic is hard enough for the eyeglasses to sit well, but at the same time has a pleasant feel on the skin. The material allows metal-free bonding of the frame and temples as well as temple designs that can be swapped in an instant and are suitable for children.
New customer ideas and steadily increasing demand - particularly in the area of consumer goods - for realizing ever more creative applications with maximum material performance induced Evonik to continually expand the range of PEBA products. The expert team for high-performance polymers is currently working on a new class of elastomers that will offer almost unlimited freedom of design, combined with consistently excellent mechanical properties. 
For 40 years Evonik has been developing customized polyamide 12 elastomers for demanding applications. The product is always reinventing itself, whether through new delivery forms or lateral entry into new markets - with even an interlude in the mid-1980s when it was used for low-noise gears for cassette recorders. PEBA is a true master of versatility among thermoplastic materials. With decades of experience in polymer design and innumerable successful customer projects under their belts, Evonik's experts continue researching to expand the range of property combinations of the flexible high-performance polymer - and to redefine the limits of the feasible.
Source: Evonik