From 25 to 29 March 2019, Wittmann Battenfeld will present latest injection molding technology with a machine from the MacroPower series to interested trade visitors at the Plástico Brasil in São Paulo, booth F242.
With the economic recovery in Brazil, this important market for Wittmann Battenfeld has gained even more significance for the company during the last year. The Plástico Brasil offers Wittmann Battenfeld a platform to present its state-of-the-art technologies to the Brazilian market. On 200 m², ultra-modern machine technology will be shown in combination with automation and auxiliary equipment.
At this year's Plástico Brasil, Wittmann Battenfeld will present to trade visitors a model from its MacroPower series of large machines with a W833 pro robot integrated in the machine's Unilog B8 control system via Wittmann 4.0, together with state-of-the-art auxiliaries. The Wittmann temperature controller, a Tempro plus D140, is also integrated in the machine's control system. The machine model is a MacroPower 650/3400 with 6,500 kN clamping force. With this machine, wheels for a wheelchair will be produced at the Plástico Brasil with a mold supplied by Technoplast Brasil from PP with 30% fiberglass content within a cycle time of 75 seconds. The automation for insertion of the metal parts and removal of the wheels was designed and developed by the Brazilian Wittmann subsidiary, Wittmann Battenfeld do Brasil Ltda.

Large machine MacroPower
Additional exhibits at the Plástico Brasil will be several stand-alone solutions with robots and auxiliaries.
A Primus 16 robot for low-cost pick & place applications will be shown. This robot model comes with ribbed aluminum profiles in its vertical axis and is powered by servo drives via transmission belts to minimize the moving load.
In the area of temperature controllers, a Tempro basic C140 and a Tempro basic C90 will be on display. The models from the Tempro basic series are favorably priced appliances with high operating comfort and a wide range of equipment options. In addition, a Drymax E300 compact dryer will be showcased, as well as SILMAX E drying silos and Feedmax basic G and Feedmax B material loaders. The latter are laid out for maximum functional reliability even under challenging operating conditions. Their modular design allows for customized adjustment to actual material throughputs as well as easy cleaning.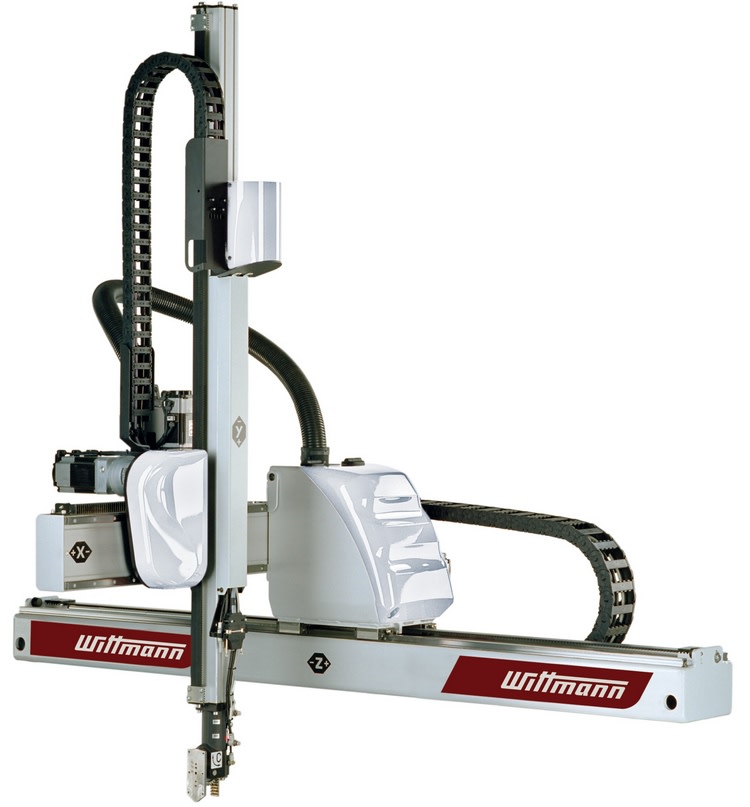 Primus 16