Ticona Engineering Polymers introduced a new Hostaform long glass fiber acetal copolymer (POM) that delivers better performance than standard reinforced thermoplastic polymers. Ticona designed this long glass reinforced fiber POM to become the industry`s choice of material in a variety of structural applications such as automotive, appliances and gears.
- Designers and engineers can now enhance the performance of their composite parts with a new Hostaform long glass fiber reinforced POM that offers a unique combination of properties including unprecedented impact resistance, inherent lubricity and excellent fuel and chemical resistance - said Vinicius Mardegan, POM product marketing manager - Americas.
Ticona designed Hostaform long glass fiber reinforced POM for use in structural applications such as sunroof systems, seating systems for automobiles or tractors, appliances, high-loading gears and industrial applications.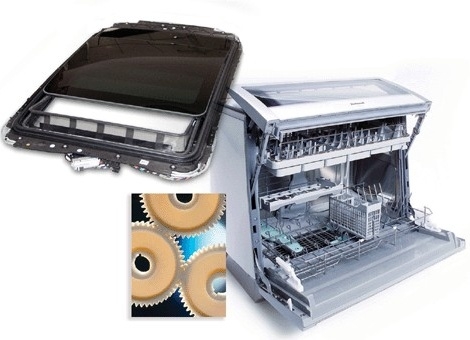 New Hostaform long glass fiber POM achievesits performance advantage via: superior mechanical performance - impact, creep and stiffness - that is required in structural applications; elevated temperature resistance than standard olefin based long fiber products; inherent lubricity and wear resistance; excellent resistance to fuels and chemicals and also typically lower moisture absorption vs. standard polyamides.
- Thanks to our new Hostaform long glass fiber reinforced POM, with better performance characteristics than standard long reinforced thermoplastic polymers, manufacturers now have a cost effective engineering polymer that can replace metal in a variety of applications - added Mardegan.
Ticona, the engineering polymers business of Celanese Corporation, produces and markets abroad range of high performance products, and posted net sales of $1.03 billion in fiscal 2007. Ticona employs approximately 2,000 individuals at production, compounding and research facilities in the USA, Germany, Brazil and China.
Celanese Corporation makes products essential to everyday living. Our products, found in consumer and industrial applications, are manufactured in North America, Europe and Asia. Net sales totaled $6.4 billion in 2007, with approximately 70% generated outside of North America. Based in Dallas, Texas, the company employs approximately 8,400 employees worldwide.