On 5 and 6 June 2018, around 200 PIM experts met at Arburg in Lossburg to attend the second international PIM conference. At the one-of-a-kind industry event, held under the motto "The Future of Powder Injection Moulding (PIM)", 18 high-profile speakers from many parts of the world presented an outlook on the future of this special injection moulding process for producing complex metal or ceramic components. The Arburg Customer Center proved an ideal venue for the two-day event's extensive agenda, which included presentations live application shows and panel discussions.
"With being a pioneer in the field of powder injection moulding with fifty-five years of experience and the market leader for the method, we succeeded in making this second PIM conference again an excellent platform for constructive and intense expert exchange," says Stephan Doehler, Sales Director Europe, who has headed the Arburg PIM team for around twenty years. "We're delighted to be passing on our skills and knowledge to other PIM experts and beginners in the field."
An exchange of experts at international level
"Just like at the first event in 2013, the speakers and guests from all over the world all loved our PIM conference," Hartmut Walcher, who has been a PIM expert with Arburg for almost three decades, is delighted to say. "Everyone who was there agrees that there's hardly any other event that offers such comprehensive insights into global PIM activities and the latest on materials, machines, mould and process technology." The conference had also provided the international community of experts from science and research, industry and business and the various associations ample opportunity to grow their networks, he adds.
High-profile speakers
A total of eighteen speakers from America, Europe and Asia offered detailed insights into metal and ceramic powder processing (MIM, CIM). Highlights included the presentations by Professor Dr Randall M. German from San Diego State University in the USA on the future of powder injection moulding, by Dr Peng Yu from South University of Science and Technology of China on the PIM industry in Asia and by Dr Moritz von Witzleben, Managing Director of Inmatec and president of the European Ceramic Society (ECerS), on the perspectives of the global CIM industry. Parts and material producers presented reports on the latest developments. Schunk, for example, presented two-component injection moulding of metal components, while BASF showed its new EVO feedstock with its greater fluidity and fifty percent reduction in mould size allowance. By the example of smartphone rear casings, Hartmut Walcher explained the latest progress in dynamic mould temperature control. Futurologist Sven Göth offered a glimpse beyond the horizons of PIM in his evening keynote "Life, Work and Sales in the Future".
Live application shows in the Customer Center
To offer a live experience of what PIM can do, Arburg and its partners prepared a number of high-end PIM applications. During the intervals between presentations, several Allrounder injection moulding machines in the Arburg Customer Center produced turbine wheels from the super alloy PolyMIM Inconel In 718, bionically optimised MIM heat sinks for LED lights from Catamold 316L, thin-wall MIM rear casings for smartphones from Catamold 316L Plus and CIM insulators for micro-format model trains from INMAPOM K3030. The specialist programme was rounded off by a factory tour offering insights into production and assembly at Arburg.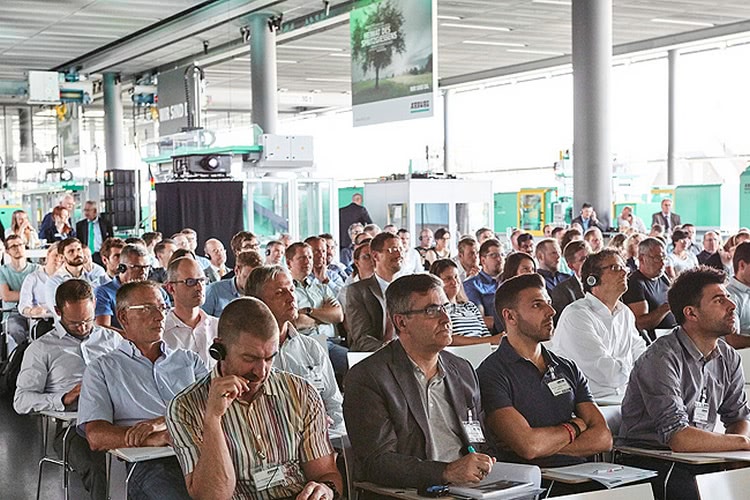 Around 200 experts from 23 countries took the second international PIM conference at Arburg on 5 and 6 June 2018 as an opportunity to get on top of the latest news on the future of powder injection moulding.
Source: Arburg